This recipe is a bit of a twist on mashed potatoes. It features chicken, chicken gravy and a lot of vegetables. It is a dish that will stick with you. It also isn't overly salty either (in the range of 600 mgs or so of sodium).
The recipe features Simply Organic's Roasted Chicken gravy mix, though you can use any brand you prefer. SO's doesn't have MSG and is not as salty. You can find SO's line in many grocery stores or natural food stores.
This was a fun recipe as I finally got to use the cabbage that came in my Harmony House Food's Super Sampler! Someday I will tire of using HHF's products, just hasn't happened yet
http://www.harmonyhousefoods.com
Chicken Colcannon Mashed Potatoes:
In a quart freezer bag put:
3/4 cup instant mashed potatoes
2 Tbsp dry milk
1 Tbsp dried carrots
1 tbsp dried cabbage
1 Tbsp dried onion
1 Tbsp Parmesan cheese
2 tsp organic chicken gravy mix
1 tsp dried chives
1/2 tsp diced dried garlic
couple grinds black pepper
Also take a 3 ounce can of chicken
Add 1 1/2 cups boiling water, stirring well. Put in a cozy for 10 minutes. Stir again and serve.
Serves 1 large appetite for dinner, 2 for lunch.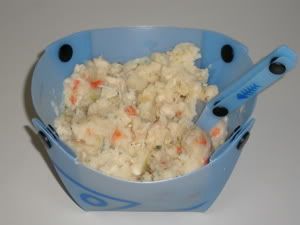 ~Sarah
PS: A bit of hot sauce added will give it a kick!