Construct a
smaller diameter soda can
stove about 1-1/2" diameter and 1-1/2" high with rolled fiberglass cloth(rolled edge up) and the
top hole roughly 1" across
for a slower burning stove for simmering for 40-50minutes.Keep the
pot about 1" to 1-1/2" above the stove..
Search under "baking" in the forums here.Should be lots of posts on stoves for that purpose.I bake also and construct stoves that have dual modes for that purpose with a smaller burner inside a larger diameter one so I have options.(sheba,spice can,skitzoid queen..might come up).By making a stove with a center smaller compartment and stove there,you get several options for whatever burn you need with an outer ring burner for high heat and a smaller one inside for simmering or any combination of the two modes depending on how much fuel you put in each compartment.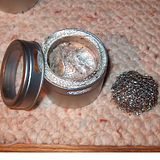 The top stove's simmer portion..the inner burner is made from an aluminum Milk talc can(hair spray?) which is a smaller diameter aluminum can. A can cutter: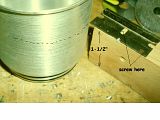 Where to cut the can(or similar can..Cut the top off,then cut down the 1-1/2" at both ends by holding the cutter and spinning the can a few times around while holding it against the razor blade: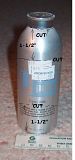 The top ring is cut to about 1" to 1-1/8" diameter.The top and bottom are cut off at about 1-1/2" high.A wood round dowel is run around the bottom portion's top edge to flair it out some for pressing.Add a piece of screen from a kitchen sieve into the top of the hole in the top half making it flush with the top of the lip.Fiberglass cloth is rolled and fit into the top half of the can pressing against the screen,then that portion is pressed down into the bottom of the can... so it could be its own low heat simmer stove by itself.That portion will simmer for 40-50 minutes(just a very few minimal boiling bubbles) using heet...