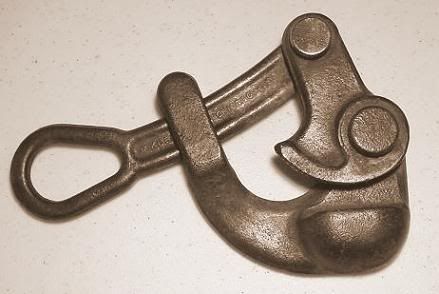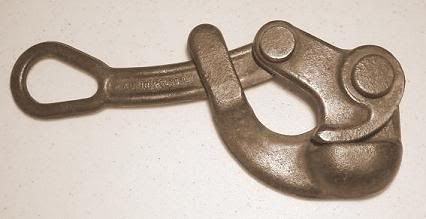 http://www.woodgaz-stove.com/
---
To pull a rope or bard wire tighter
Man play with fire man get burnt
---
Oops is right. it's called a "Rope Clutch". i have seen them used for barbed wire also.

Daren.........
"I'd rather be happy than right." Slartibartfast
---
Posts: 31
Joined: Thu Sep 04, 2008 12:08 pm
I think oops and darren are both right I've used it before when helping to put up wire and barbed wire fencing.
---
Posts: 90
Joined: Sun Feb 17, 2008 12:46 pm
I'm three posts too late!! It is either to pull rope/wire taut, or to grab the side of some thin material(sheet metal, tin,etc.).
It appears to be in excellent condition. Someone spent some serious time and effort to make it look so nice.
---
Posts: 5278
Joined: Wed Sep 19, 2007 9:08 pm
Location: SW, Ohio
Contact:
Definitely looks to be a clutch brake device.
I'm way late on this one.
"Many of lifes failures are people who did not realize how close they were to success when they gave up".....Thomas Edison
"
Live Life....Love Life....Ask More !
---
zelph wrote:
It's a cable puller.
Not for rope
Only rednecks use it to pull barbed wire
Good guys use stretchers for barbed wire
http://www.woodgaz-stove.com/
---