I was thinking Daren that maybe a person could reach in kind of at the side and ,make "wood type" dovetail ends that could lock into a slot in the other end of a windscreen cone or something like that..probably not..
Zelph..Congrats!..The vinyl siding at the top of a wall has to have an interlocking trim piece to hold the last piece up where the top edge of the vinyl has been cut off the siding piece to finish the wall..therefore it needs a new interlock added at the top edge to lock in and not fall off the wall since you have ripped the nailing strip that holds it up off the top edge partial piece.
Hint:In cold weather the vinyl siding can get really brittle and using that tool can "crack" the piece out of that interlock,rather than expand and bend it and just make a "hump" to lock it in the trim piece.If you run into that problem,keep a bucket of hot water handy and soak the vinyl with a hot,wet towel to soften it up before punching it.
The tool is not supposed to make a hole,just stretch the vinyl into a bump to hold the top edge up.
The bottom of each piece of vinyl siding has a "J" shape on the bottom edge that interlocks to the interlock of the previous piece(or a starting strip),Then the piece is laid flat against the building and roofing nails are added every 16" or so along the top edge horizontal slotted holes to hold it in place.Vinyl expands a lot so the nails need to allow for expansion.The ends are lapped 1" and run short of corner boards and windows 1/4"+ to allow for that expansion.
Cutting vinyl siding..use a circular saw with a plywood blade placed in backwards..cuts like butter.For quick crosscutting without squaring every piece..make a sliding table with a piece of plywood on the bottom,a 1x4 board lengthwise top and bottom with a squared short piece of 1x4 across those to square cut the ends by running the saw table against it..You can cut a couple pieces at once by just placing a mark at the length you need and running the saw lightly across the table with the blade teeth dragging on the bottom plywood and the saw table against the crosspiece..comes out nice and square.
Vinyl siding is easy for one person to do because it weighs practically nothing as a single piece but is floppy.On the other hand..doing soffits(under the overhangs) overhead with one person can become a wrestling match for the same reason,especially when you are walking on a plank up two stories...
There..now anyone can do vinyl siding!..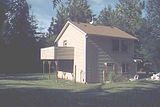 The top white part on the front is "shingle-look" vinyl siding...