Good luck on this one!!!!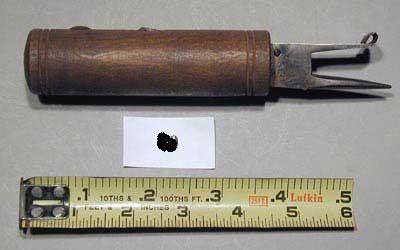 http://www.woodgaz-stove.com/
---
Ouch a Orange juice extractor
Man play with fire man get burnt
---
A seam ripper for sewing?
---
russb wrote:A seam ripper for sewing?
You could be right but i have not seen them that big must first type
Man play with fire man get burnt
---
It's a knfe with two blabes.
one cuts a straight line while the curved tip blabe removes material scribed by the straight blade.

Cheers!
---
Posts: 5278
Joined: Wed Sep 19, 2007 9:08 pm
Location: SW, Ohio
Contact:
A can opener?
"Many of lifes failures are people who did not realize how close they were to success when they gave up".....Thomas Edison
"
Live Life....Love Life....Ask More !
---
Posts: 90
Joined: Sun Feb 17, 2008 12:46 pm
My guess is that it is an early gutting knife.The top portion prevents over penetration while the bottom portion is the actual knife blade for slitting the hide. It appears to be sharpened on the inside edge. You are finding some tough ones to figure out!!
---
wild guess.
sewing or stitching awl.
"I'd rather be happy than right." Slartibartfast
---
This is the same type of tool only made by a different person. The tool is used to perform a specific task.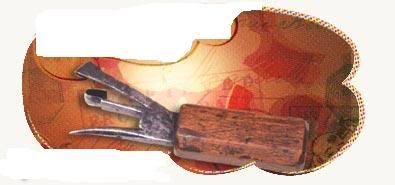 http://www.woodgaz-stove.com/
---
You its a leather tool one for hole one to break the edge maybe more
Man play with fire man get burnt
---