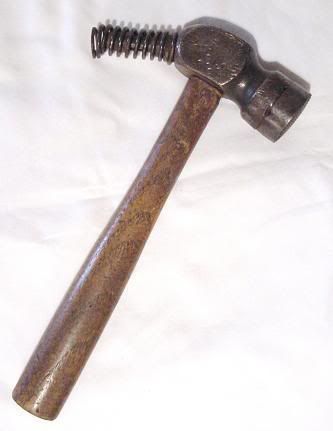 http://www.woodgaz-stove.com/
---
Posts: 5278
Joined: Wed Sep 19, 2007 9:08 pm
Location: SW, Ohio
Contact:
It's a specialty hammer used to do special jobs !
"Many of lifes failures are people who did not realize how close they were to success when they gave up".....Thomas Edison
"
Live Life....Love Life....Ask More !
---
Its to pre set nails or tacks saves the fingers then pound in
Man play with fire man get burnt
---
This hammer is a Cobbler's or leather worker's hammer, used to make holes in leather. A bit inside the spring holds a nail by the head, the spring automatically extricates the nail after a hole has been made.
http://www.woodgaz-stove.com/
---