Here we go again!!!
This tool is 3 inches long.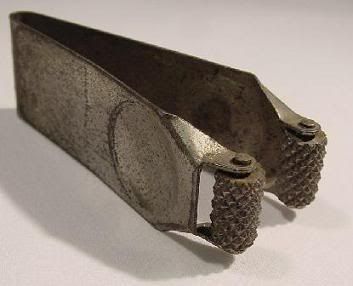 http://www.woodgaz-stove.com/
---
knurling tool
"I'd rather be happy than right." Slartibartfast
---
Bark remover i know its not right but
Man play with fire man get burnt
---
Posts: 5278
Joined: Wed Sep 19, 2007 9:08 pm
Location: SW, Ohio
Contact:
leather working tool.
"Many of lifes failures are people who did not realize how close they were to success when they gave up".....Thomas Edison
"
Live Life....Love Life....Ask More !
---
Posts: 90
Joined: Sun Feb 17, 2008 12:46 pm
It appears to be a tool for embossing a design on materials. Possibly pastry?
---
Looks like it's built for squeezing and pulling something through. Is it used to seperate fibers from some plant?
---
zelph wrote:Here we go again!!!

This tool is 3 inches long.
It is an embossing tool used to prevent alteration of Personal Checks. After writting the amount on the check and signing it the writer would use this tool by embossing the area over the dollar amount and over his signature to prevent an alteration by some would be forger. The tool is small enough to carry in ones shirt pocket. Desk models are also available.
I think darenN had a good idea to use it as a knurling tool
knurl the forend of pencils for a sure grip
My teeth worked pretty good at making my pencils non-slip
http://www.woodgaz-stove.com/
---