Well allow me to clarify, by low pressure, I mean the large butane canister. for filling lighters. I found with the smaller refills the pressure drops very quickly.
Vibe is the refill similar to the one below.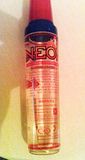 The pressure on these are quite low, so when i refill my lighters I stick them in the freezer for a few minutes, then walk around with the refill in my pocket for a while, that way i can fill it properly.
Any how back on topic, been thinking of using a 15mm mixing tube, into a 15mm to 22 mm reducer to male the burner head. Does the volume (length and width) of the mixing tube make a difference to the air fuel mixing, My guesses are longer tube will give better mixing up to a point where the velocity is to low. a narrow tube will require larger air holes and lower resistance from the diffuser or mesh. A wider tube will require higher gas velocity and therefore higher gas pressure or it wont draw enough air.
note the above are just calculated guesses.
Oh, Zelph I remember i still have some epoxy "Steel" Putty, Strong stuff, have used it to repair a cracked induction hose (operating between .8 and 1 bar) So i assume it should hold up, gonna mix a block and hit it with a blow torch. I had a brilliant idea I am going to take the jet and make a wax mold of its threads. the use super glue to make a positive then when i mix the putty i can use the cast positive which is identical to the valve to make the part where the valve screws into, Add a little Loctite thread sealant and its as good as a tapped hole.
, in theory at least.