zelph wrote:Give us break!!!!! All of are interested, we want photos, we want photos!!!!!!!!!
It's nice to have a community of people so interested in recycling!

From left to right, then, we have Roots Aroma Black and the Saporro Grapefruit (with and without the plastic cover). The Roots I don't know, but the grapefruit is 14.1oz. Both of those have pretty standard soda-can-style bottoms and diameters, with wide-mouth screw tops.
Then are a few with flat bottoms, starting with a favorite of mine, the Ramu Bottle, which has a 500ml capactity. Quite practical. Then something from Korea if I recall correctly - "Today's Tea (Mixed Cereal Drink)". I'm kind of scared to try this one. Seems like a breakfast of some kind... In any case it's 370ml and has an easily-removed plastic cover like the grapefruit juice. Next is the Pokka jelly drink as featured in the vid dlarson posted (275ml).
After that is the vessel that intrigued me most - a 200ml sake can which is slightly larger diameter than a V8-sized can. Also, the bottom is a bit flatter than a V8 can (see below) and it has a plastic lid that clips on tight. It seems ripe for some idea I haven't had yet.
Then we have two bags of jelly drink. To the right of those are some cans of ferrous metal, which apparently are common in Japan. They're heavy and most suitable for wood stoves, or maybe pop stands, but I bought a few just to have them. There's more shapes and sizes of these at the Uwajimaya. I guess bplite limits image width, so here's the right side of the photo: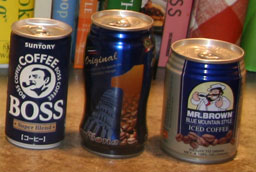 The irresistable Boss coffee can is about the same size as a V8 can (190ml), but steel or whatever. Then comes a Saporro-shaped Cafe One can and Dr. Brown can both at 240ml (both coffee). Not pictured, I also have a similar barrel-shaped can I thought I might invent a use for one day.
Finally, here's a peek at the bottoms of some of these cans.