Old farts will still remember the old aluminum 35mm kodak film cans..these make a nice small container for making alcohol stoves..I've tried penny stoves and others with center tubes of 1/2" conduit,a little jb weld on the threads of the can and around the top of the conduit,screw the top on and cut an x across the center portion to fold it down inside the tube..Done!
The penny one is indented in the top with the penny lightly tapped down to seal better in the soft aluminum(sorry,not shown).
I haven't done any serious testing as far as times. 8 needle holes pushed around the inside lid perimeter is shown..
The outside is a simple Armour veinna sausage can with 1/8" holes around the lower perimeter up 1/4",with a small square section of mesh laid on the bottom and a mesh sleeve inside the perimeter of the can abourt 1/2" higher than the can..tight enough to lift it up and support the pot higher if needed.A second can fits on as a lid,holds the smallcan stove,a 1-2 ounce bottle of alcohol,a small tube of matches,and fits in the bay of a fanny pack.Usually use about 1/2 ounce of alcohol for 6-8 minute burn.boil 16 ounces of water?..don't remember but don't think it did..I use it for day hiles to make cocoa at the destination using about a 10 ounce v shaped cup..just about boils in 5-6 minutes or so..no real tests done other than drinking the cocoa or using it with a mellita #2 coffee filter holder over a cup and a prefilled folded filter coffee load we take along.
The cans are available on ebay all the time at about $6-8 for 1/2 a dozen cans.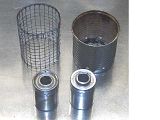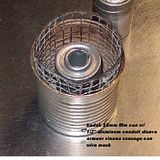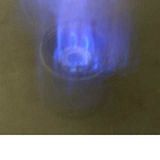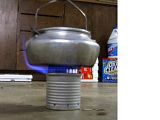 Sorry,no fancy video either..LOL!..Just an idea for another nice smaller container for easily making pocket sized stoves...