This is my latest stove it is called SUUL stove (Super Ultra Ultra Light) its total weight is 8.8 grams and that includes burner, pot stand, fuel line and control valve.
This stove has only been designed to support a small pot of a volume of around 500ml.
Pot stand 2.1355g
Burner 1.9739g
Pre-heat tube and jet 0.5825g
Valve 3.7737g
Fuel line 0.3105g
Total weight 8.7751g
This stove has been an exercise in how light I can make a remote canister liquid feed stove, pot stand and valve, I was hoping to get the total under 8g but the valve turned out at a disappointingly heavy 3.8g, I am worried if I go much lighter that I will go below an accepted level of safety.
Every part on this stove has been home made.
The burner tube is made from aluminium with a Ti burner plate.
The pre-heat tube is made from 1mm SS tube and brazed to a small brass fitting that screws into the base burner.
The jet is made of brass and weighs only 0.045g.
The valve is made from a solid piece of aluminium, it has a Ti needle valve with a Beryllium copper handle, the fuel line is connected to a 1mm SS tube pressed into the Valve body, the lindal valve is depressed by a Ti pin.
The fuel line is high temperature resistance PTFE clamped on with small brass ferrules.
The Burner is supported on a piece of aluminium cut out from a cat food can.
I was hoping to add a windscreen and keep the total weight below 10g but I am still 0.2g heavy.
The stove has only been tested in the workshop, I have used it to make several cups of tea. It has been a learning experience and I will now start to make a stove which can be used with larger pots and Coleman Max canisters which I hoping to use it as my main stove.
Tony
Top view
side view
valve body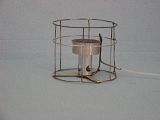 Burner head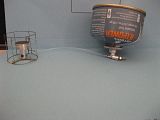 canister on valve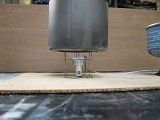 flame under pot