All the right parts came together to make up this combination stove.
I made it with an aluminum bottle "Snapple Energy" drink.
A can from a can of chicken in water.
A piece of fiberglass wick.
I JB welded the can to the bottom of the bottle, inserted the wick into the can, poured in 2 cups of water, lit it, 7.25 min later I had a rolling boil. Water temperature at the start was 70 degrees. Air temperature was 58 degrees.
I used 1/2 ounce of fuel.
Total weight for the combination stove with integral pot = 110 grams/3.8 ounces.
I know this design goes against stove making pricipals, the one that says you don't want the flames to go out from under the pot bottom and up the sides. Well this one shows how those hot flames on the side of your pot can really be an asset.
Found an aluminum cup just the right diameter to make the bottom fuel holder. A project for this weekend.
My next stove design will be named StarLyte. Should be ready next week.
I was thinking of scrounging the top vent off a pressure cooker and making one of these "snapstoves" into a pressure cooker. I would use the 5 pound setting on the jiggler thingy. Do you think it would work? Does pressurized water boil faster?
90 percent of backpackers use their stoves for boiling water only, right? Most freezer bag it and use the water for drinks right?
This snapstove would be for water only.
Any ideas on a source for larger aluminum containers twice the height and twice the diameter of this snapple bottle. No need to be exact.
Got sidetracked, went wild on my thoughts. Started thinking of a way to use the pot to carry water. Went through my STUFF and found this Brunton 1.0 litre water flask. It holds 4 cups of water, so I chose to work with it so I could carry my water in it, heat the water in it, use 2 cups of the water for my Rahmen noodles and the remaining 2 cups for hot chocolate.
Scrounged, found an aluminum cup the right size for the base, put the fiberglass cloth in, 35ml of denatured/1 oz.+, 13.5 min. later, 4 cups of water at rolling boil.
Had to try the windscreen idea . Made one out of al flashing that is 10 in. high with 1/2 inch holes at its base, fits close to burner base. Thought I'd try to capture some of the heat going out the top so I put on a 2 cup capacity pot. After ten min. of heating it was at a rapid boil and the top two cups of water got to 140 degrees.(good enough to wash my hands) So, thats 4 cups of water boiled in 10 min. Thats 2 1/2 min. per cup, not too shabby. The windscreen knocked off 3 1/2 min. of the boil time. I did this test only once, and find this hard to grasp. Need to do more burn tests. Will report as soon as more tests are made. Never did test a windscreen around the snapple bottle.
Some thoughts led me to preventing the plastic threads on the snapple bottle from melting so it could be used to carry water also. I made a round split collar to act as a heat shield, you can see in the second and third photos, bottle on the right. Used .005 anodized aluminum sheet to make it. It's thin stuff, bout the thickness of red hair. Success, it worked!!!!!, tried several burn tests, no meltdown.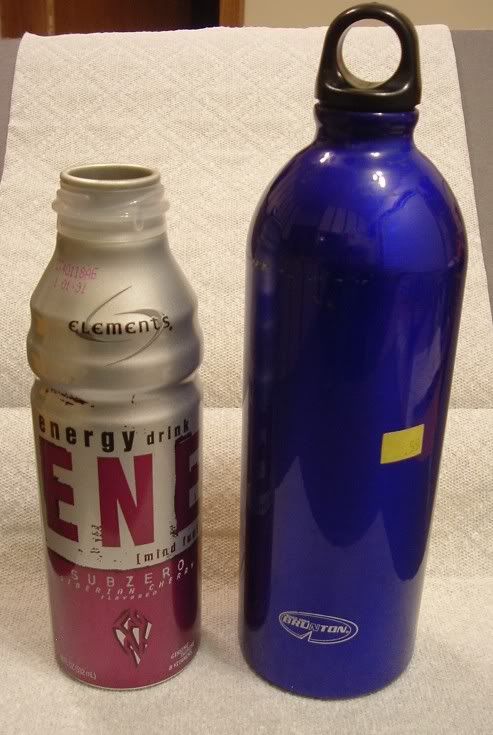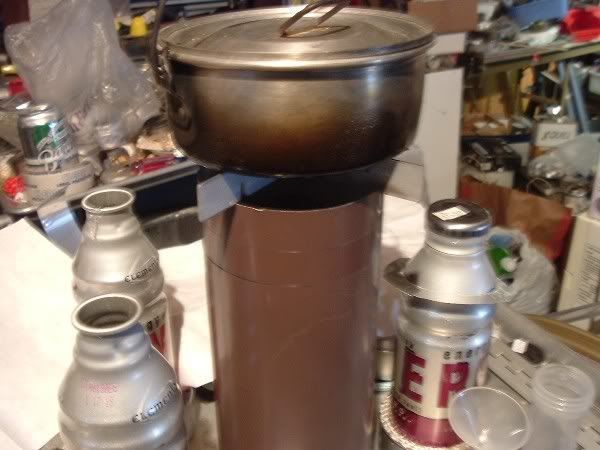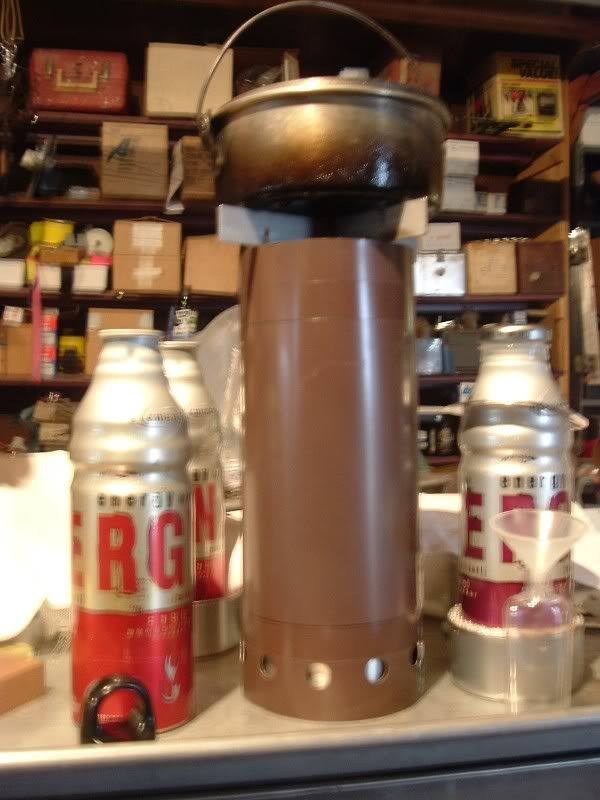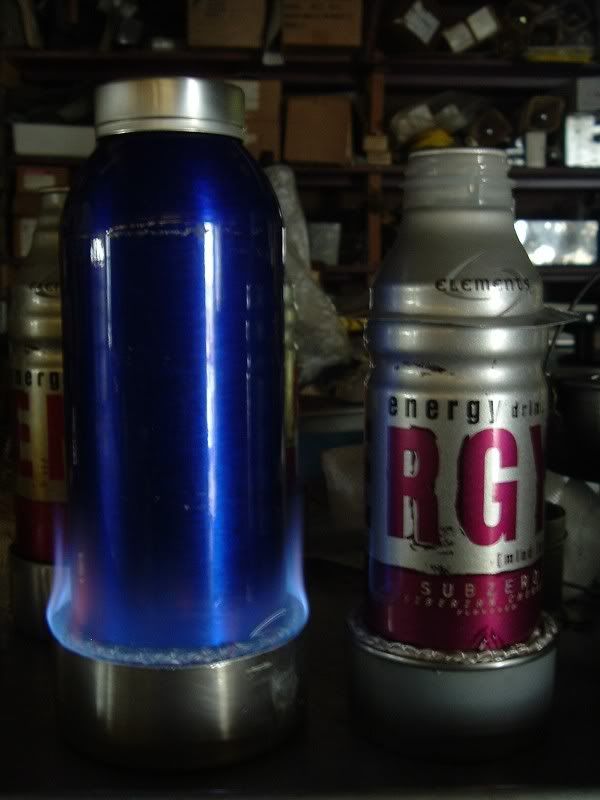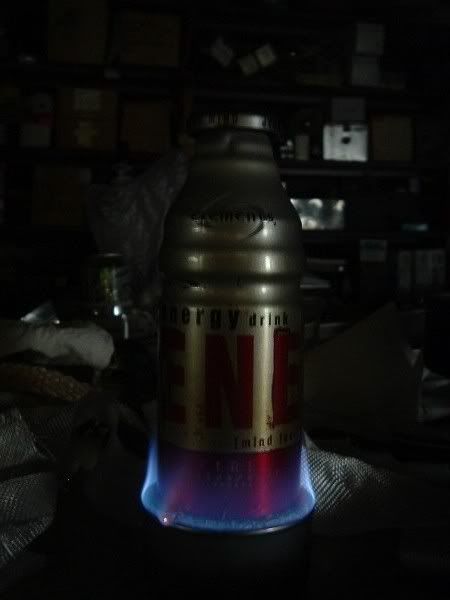 Made two more test burns on the Brunton 4 cupper. It's hangin in there at around 10 min for the boil.
Now check this out!!!!!!!!!!!!!!! Made a windcreen/heat retainer for the Snapple bottle just like the one you see around the Brunton 4 cupper/1LT. It fits close, retains heat big time.
Put in 2 cups 48 degree water, 20ml denatured alcohol, air temp was at 48 degrees. The air was still(still in my garage ) lit it, put the windscreen/heat retainer on and then waited. TIC TIC TIC TIC TIC glub glub glub we got a boil in 5 1/2 min. This thing(snapchick?) is awesome. The original time was 7 1/4 min with a water temp beginnig at around 70 i believe, air temp 58.
I still need to do some tweakin then I can give some specks. I can refine it!!!!