I have the same experiences with my family when out camping. I always wind up cooking with my stoves or in the fire pit. Everyone knows the hot water is ready for when they roll outta the sack. I've finished at least one cuppa hot chocolate by the time they get up.
Nothing like waking up to a nice warm fire in the pit or a wood burner.
How did the grouse taste?....tough?
Sousaville should of had split twigs and whole ones
If the triangle one can hold 2 ounces of wood it shoul be able to boil 2 cups.
a full load of twigs in the woodgaz stove boils 4 cups of water in a Kmart grease pot.
I've done a lot burning of twigs and other wood fuel and bottom lighting is always too smokey. Thank goodness for vertcle stacking and top lighting.
Let me bring over a video to show a bottom lit stove and the smoke.
This is a photobucket video, click on it to open it: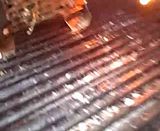 You see how much smoke. Lots of heat under the twigs is gassifing them and not enough oxygen to ignite the gas in the smoke. Once it does ignite all 3 requirements are met for a good fire. Watch when the pot is lowered onto the stove......one of the requirements is really reduced (air) so we get smoke in large quantity. Take the pot off and whooosh, great balls of fire
If I remember right, I used jute twine coated with petroleum jelly as my tinder under the twigs.