Finally got a nice kit together with the Conquistador Pot
Pot weighs 1oz and has a liquid capacity of 2.75 cups Lid is included. Has 2 additional ridgelines that strengthen the wall of the pot. Has a flat bottom for maximum stability.
Pot has ridge lines at the 1 cup and 2 cup mark.
Fancee Feest stove weighs 1oz
Starlyte Stove weighs 1/2oz
The kit is being sold with 1 pot, choice of one stove and 1 - 4oz capacity fuel bottle
Total cost of the kit is $30.00 + $3.75 shipping
This sale is for viewers of BPL and bplite only.
http://www.woodgaz-stove.com/conquistad ... om-kit.php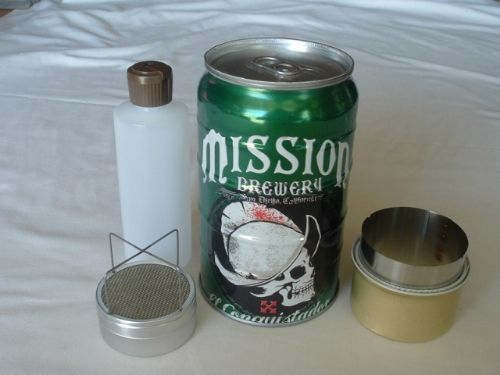 Can is from the Mission Brewery in SanDiago, CA They are a Micro Brewery. The can will no doubt be a collector item in the future. I love the graphics
the metallic emerald green is my favorite.