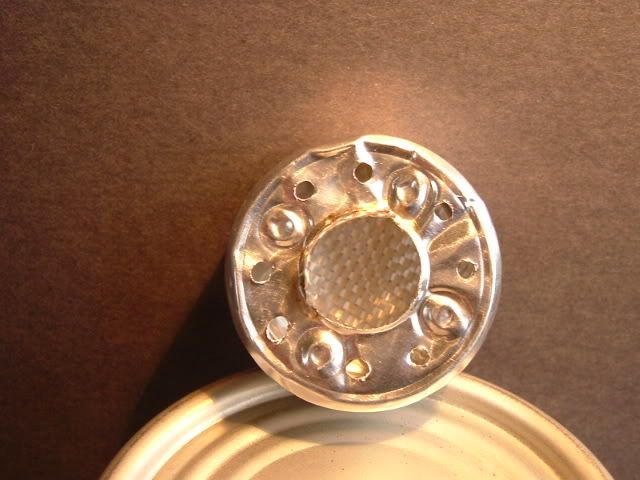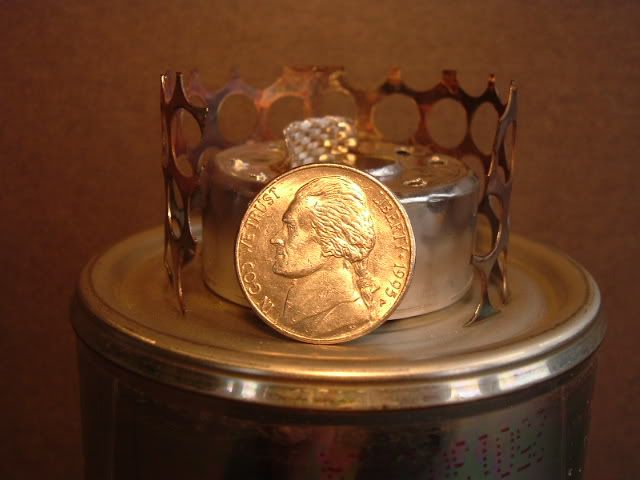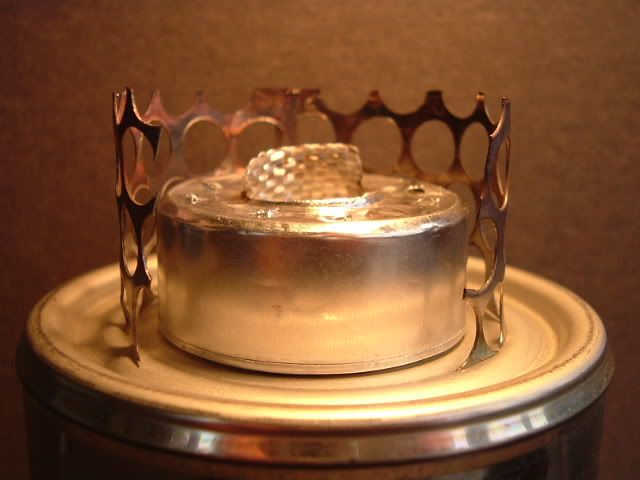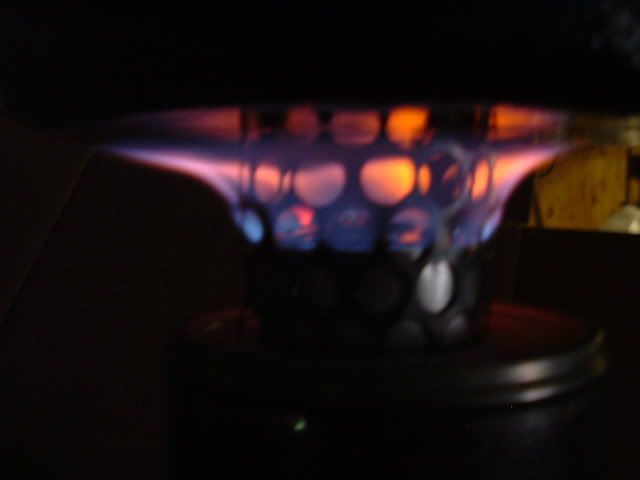 Added a new feature to my stoves.
It's an indicator wire that gives me a visual ability to know if the fuel is burning when used in daytime bright light conditions.
Here you see it glowing red hot, easy to see, is especially nice when fuel is almost out and is burning at a low height.
If you would like a 6 inch length of this wire to try on your stove indicate so by cutting and pasting my signiture line nothing ventured nothing gained in a quick post and then in a PM personal message to me. I will then give you my address and all you have do is send me a self-addressed, stamped envelope and I will send you one piece 6 inches long. That should be sufficient to fit your stove. Connect it in some fashion so that it is inline with the flame of your stove, the flame has to touch it to get it red hot, you know what I'm gettin at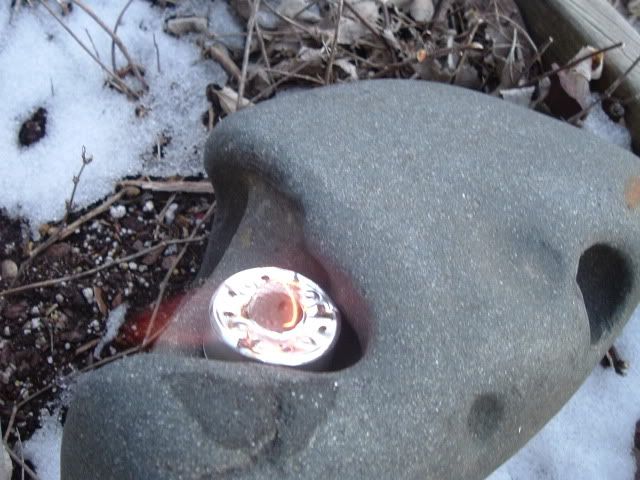 Low pressure, side jet, tea candle stove.
10ml fuel cap. 1 cup water, boil time 7 min.
One cup of tea comming up!!!!!!!!
It fires up just like a supper cat.
The stove is sitting on top of a vegetable can and has a stainless steel cup on top of the stove.
With this one added we now have an awesome threesome, open flame, pressurized and low pressure.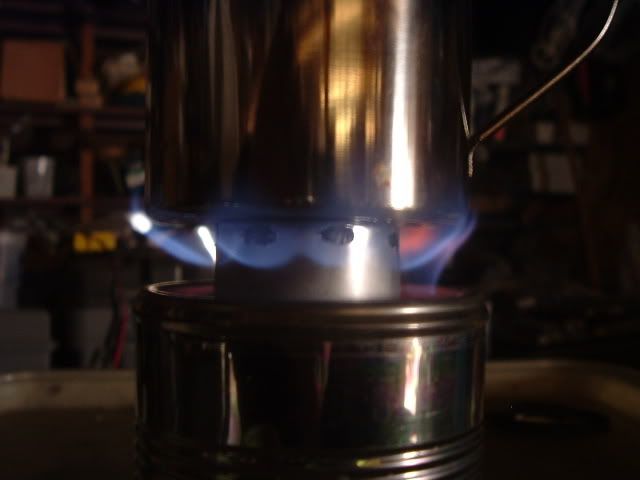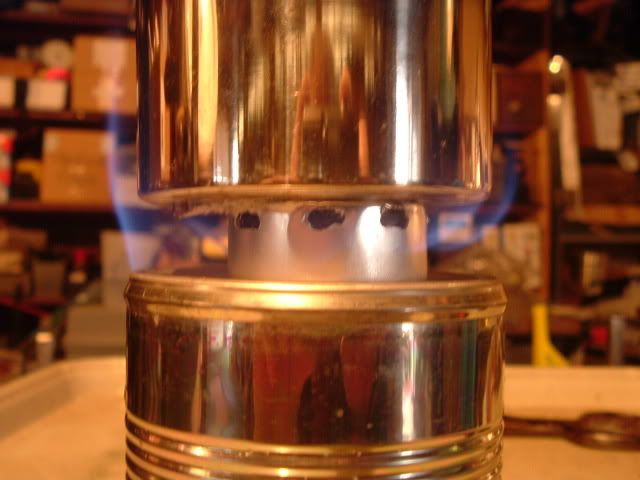 I fired up the TC5 this morning, 1 cup water room temp withe one medium egg in it, brought it up to boil, simmered for 1/2 min,flame out,cozyed it for 10 min, out came a hard boiled egg.
iT HAS GONE FROM A THREESOME TO A FOURSOME
Dual Flame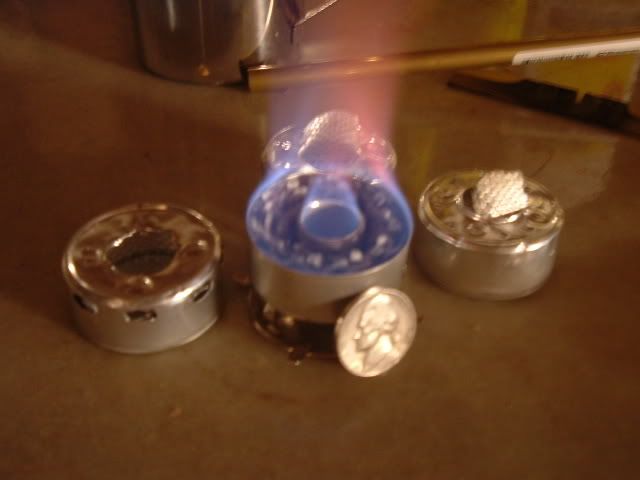 improvement
Added an internal support ring to give the burner rigididty.
It will support 15 pounds no problem.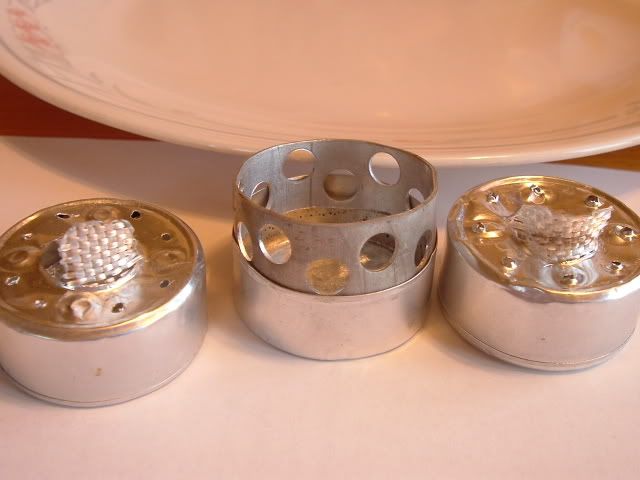 Found an anodized aluminum mesh material for a potstand. It reduced the weight by 1/2 gram whooo wheee nokkin off them grams, maybe it's gettin too light.
The case to carry it in has a hinged lid, this little thing keeps lookin better and better. What can we do next to improve it?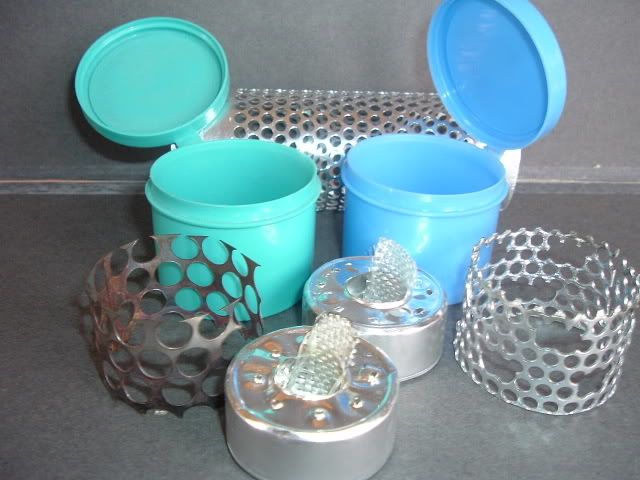 Take a look at this internal pot stand made from aluminum venetian blinds that fits inside of a T candle stove.
pot stand
also this one, better yet
pot stand