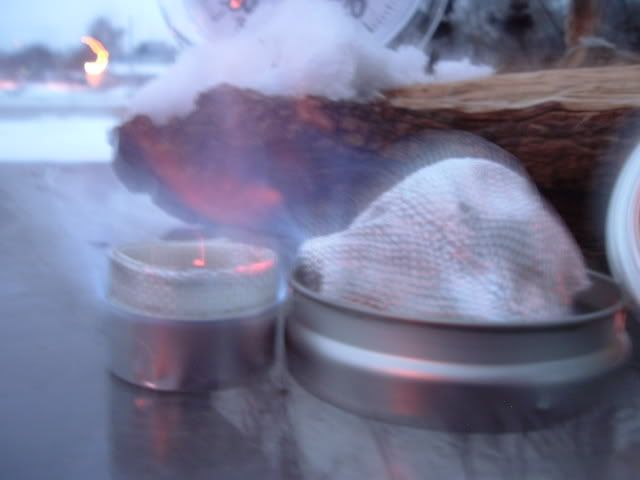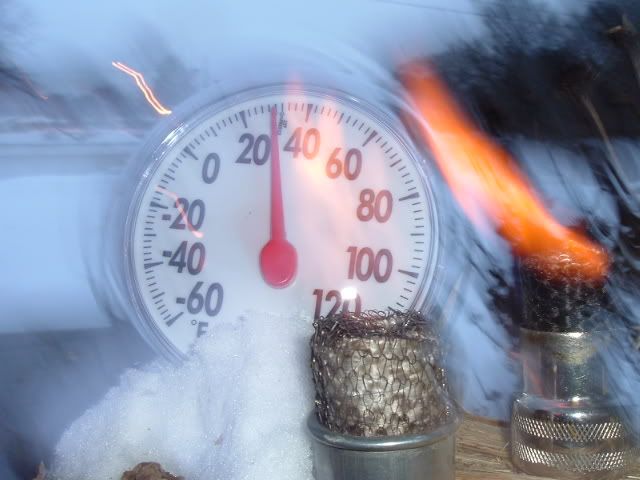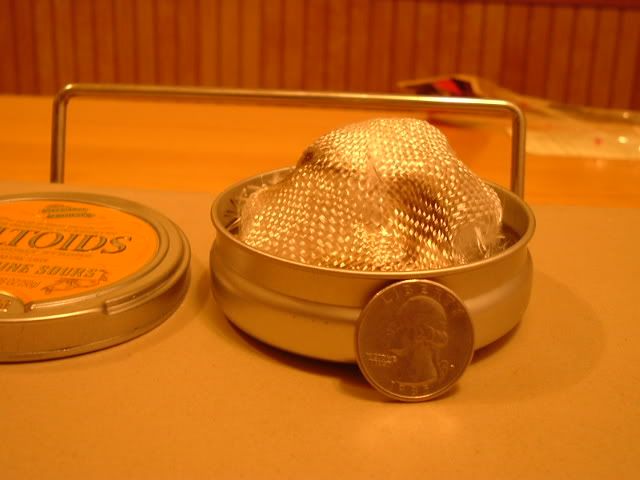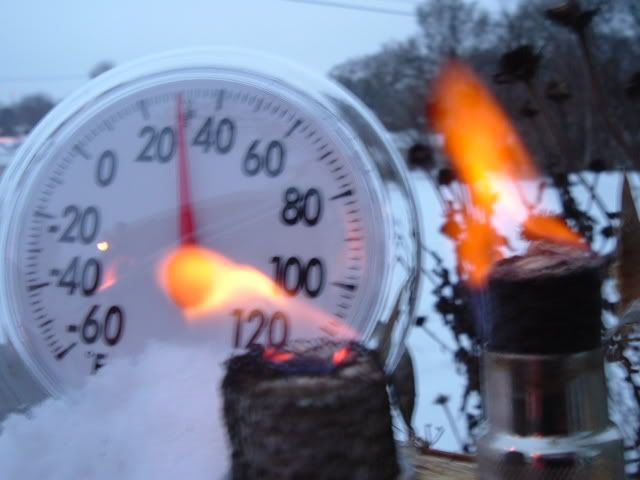 The first photo is a burner made out of an altoids tin, a 5 x 7 inch piece of fiberglass cloth that I wedged into the tin to prevent it from coming out. The cloth is much larger so I could put a ball of attic insulation in the middle of to make it puffed up in the middle. When I put the lid on it compresses and I am able to close it no problem. When I open it it puffs back up and out about 3/4 of an inch. All I have to do is tug on it a little and it comes up to about an inch and a half . Poured one ounce of denatured alchohol on it and lit with a match. The temperature was 27 degrees F and a small breeze blowing. Poooffffff started to burn no problem and continued to burn itself out.
The second photo shows a Megawick and a Junior burning isopropyl 91 in the same temperature conditions outside. They took to the match no problem, burned until they were out of fuel. These are below freezing conditions, I have read here and there that alcohol does'nt burn in cold temperatures
What have your experiences been with pop can stoves and cold temperatures or any type of stove for that matter?
In next few days the temperature here in northern IL is going to be dropping into the low teens and I'll be doing some cold temp. boiling tests to see how well the alcohol does. Sofar iso 70 in not worth a toot in the lower temps.
At the local ACE hardware store they have iso 70 in one gallon containers selling at 11.59 a gallon. Denatured sells for 12.00
Made some test burns over the last few days.
Altoids round tin with raised wick (pictured above somewhere), used 1 ounce denatured alcohol, 2 cups of 32 degrees water, combination windscreen pot stand, 30 degree air temperature in garage. Got a rapid boil in 5 min. 15 sec.
Megawick: used 35 ml denatured alch., 2 cups ice(water left in pot overnight) combo wind screen pot stnd, 17 degree air temp. in garage. Melted the ice and proceeded to boil the water to a rapid boil in 9 min. 15 sec. I did this test 2 days in a row and had the same results.