Wwe were going hiking to a waterfall..weather was iffy,so went to the "swap meet" and hiked around there instead..GLAD I DID!
One of the regular overpriced dealers there had this sitting on the corner of his table..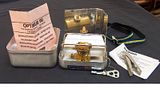 ..Anyway..I asked the price,expecting $100.."ah..$15?...SOLD!
Totally unused Optimus 99..but no box..Oh well figured I'd better pay for the thing and not hassle for the box..and get the heck out of there..
On the way home stopped by a thrift store and picked up an Official Boy Scout Miner's Tent made of Canvas,bag dated 1962..but no pole..looks exactly like a real nice pattern for a two person single pole tent..6' tall inside and 7-9x7-9 square bottom..The canvas is pretty much perfect other than a big "RB" in felt pen on the lower side..nice pattern for a lightweight nylon 2 person tent before reselling it as a BS collectible!
The tent is in very good shape..bag needs some sewing and patching as you can see to the front panel..no aluminum pole..
I also picked up a slightly over sized fanny pack with a zippered compartment and two mesh bottle pockets..tjhat unfolds into a full lightweight backpack with shoulder straps and waist belt.Too big for the wife and fit me perfect so it'll make a nice lightweight day hiker at 13oz..
It turned out to be a good day even though I didn't get to the falls!