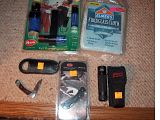 Anyway..got some questions:
Hey Cuz.. is this the flashlight you posted?
..it has 4 'on' buttons around the perimeter..a red,blue or green LED,or 3 white leds..or any combo of the six leds!About 1" by 4" long w/ a sheathw/carabiner and called a "Coast LED Lenser"..looks like new, has batteries(3-AAA) and I paid $10 for it..
Next is a peper spray pack,new in the package with two small 1/2 OZ units(6-8') and a 2oz unit(10-15') for $7..Will it work on bears?
..The missus can have the small ones...one for the car,one for her purse..
Some fiberglass cloth in a pack for $2..replaces what I use for wicked stoves.. guess I'll have to make some more
And a couple small really lightweight knives.. small used Buck knife in a sheath and a Case Mini Buckhorn knife(Weighs nothing!..1-7/8" blade..lifetime guarantee) in the package at $4 each..Now I can hang one from every pack..
Other stuff...Zelph..I added some better pictures in that Goat Flats folder that shows the small meadows better they pitched their tents in.The area is mostly exposed rock with lichen and heather,some small hard-life firs,spruce, or pine with small flat patches of meadows about 20' across..they picked one of those to camp in.There are more meadows by the main trail(see the "cloud" photos)..We stayed there a couple hours eating lunch and chatting hoping the clouds would lift..instead it did just the opposite and became almost a white out before we left(fog pictures were when we were leaving).I added more pictures that shows the tents better and the bad weather..nothing spectacular..some trail shots near the top.The bottom was thick woods about 1/2 way up as far as Saddle Lake with the trail sides mostly blueberry bushes.3/4ths of the way up it turned into upper meadows,smaller trees,and tarns.
Hoepfully the weather will hold and we'll be back up there next weekend...crossing my fingers..we want the 360 degree views!