I don't know..I poured my concrete today and didn't kill either of the newbies helping me..maybe my karma is running high this month!
Anyway..I went to work about an hour early and figured I'd buy some cheap thrift store gloves for the newbies on the job for the pour and hit a couple thrift stores on the way.The first one petered out as usual and without gloves there other than some prissy ones I knew the boys wouldn't care to dirty!
..The second one,same thing,,nothing worth buying glovewise..but while I was there,Guess I better check out "all" departments..besides I had 15 minutes to kill!
I ended up in more of the as-is /furniture area where I noticed a couple cheapo tents(had the proverbial blue tarp type bottoms(don't buy that junk!)..walked over one aisle and spied another tent bag..I didn't see the "blue tarp detail" pulled it out a little,didn't look wiped out..and then looked at the bottom "Kelty Clark Tent"..okay,I'm buying it!
Got it home this afternoon,grabbed a beer,and went out in the yard to pitch it to see what I really got.
Damn near perfect..other than a few new cat prints(guess who!)!The "inspector" okayed the buy right out of the bag.This thing is beautiful and a nice design,though a little on the heavy side at 3lbs-12 oz in the oversized stuff sack,everything including stakes.I can live with that!Appears it probably was used for one trip or so,super clean inside and out!It'll make a nice cozy one for the wife and me or roomy solo.
This is a nice design!The fly clips on quick and tightens down.The vestuibule seems off set to one side for more room..unique!If you can find one at a reasonable price,buy it!I haven't checked the online reviews yet.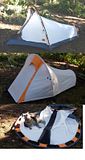 My karma must be running high this month..only thing i can figure...