Okay..new tent..
Eureka Timberline 4 DELUXE(must be "deluxe"because of the optional vestibule)..a lot larger than the other timberlines...probably a bit taller also..haven't measured that...huge inside..didn't let the cat in this one.same top plastic cross pieces and setup with older style aluminum frame...lots of air front and back.This has a nice vestibule that sticks out about 3'+..room for 2-3 packs and other gear over dirt..age unknown...No need to mention the price...
10lbs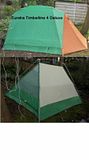 Okay..someone enlighten me on when
ROSE
was the "in" color for flies!!
Looks like a real "manly" hunter's tent..no wonder it hasn't hardly seen any use!
Older White Stag straight A frame in very good shape..I'm figuring the early 60s or so..self-storing aluminum poles(down inside each other),about 16 stakes... for the side walls and fly ,and one out front and back.I was thinking maybe GERRY orange(hoping) but couldn't find the logo until I got it home(tent was inside out in the big bag
)Anyway..had a LIME GREEN storage bag and came in a big waterpoof canvas bag,big enough for about 4 tents...$5..Okay..I'll take it...I figure I can use the nice fly with the beaked ends by itself on not so rosy days or when I need to signal biologists...
just under 6 lbs..but roomy!