I figured I'd give you all a taste of it..
I hit my favorite thrift store today..no tents..
..even asked the back room guy if he had any hiding back there.."Nope"..What the heck,..figured I'd hang around a while anyway,talk to friends.
kept checking the back "as is" area without finding too much back there.A friend found one mountain bike new plastic fender and the guy said there was a second one put out(full set) so I helped him look for it.
I came across this box(when was this put out?..
:
So..grabbed the box and checked a bit further..pulling stuff out and reading tags:
Holy Cow!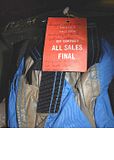 Gotta be 4 season and "Experimental #1"!It's got that gawd awful coated-polyurethane-nylon smell from the 70s or so that talkes a couple cans of fabreeze to cover..new tent that has never been used,right out of the box!I wonder if it was even setup in the store?
Weighs 12lbs,has a machined aluminum pole that houses more pole sections inside,six hugemungeous stainless,aluminum, or titanium stakes..I'm hoping it's all here.large red fly and blue,yellow,gray tent.With one pole I'm thinking a tall 6 sided like miner's tent or "shangrila style" that'll handle deep snow...especially since it's supposed to use a snow tube as an option.
Well..everybody is now where I am right now.I haven't set it up.I'd like for the fat cat to go back to sleep before doing so.She can be a handful trying to keep her out of a new tent!
I think I might see if I can find some history on the thing before setting it up(make you people suffer..
),give me a better idea of how it goes and allow some of the 30-40 year old smell to go away.
Stay tuned for the next episode of "as the world turns"...
If I wait until tomorrow to set it up..will it be raining?Should I lay out a tarp underneath to keep it clean and unsoiled?