When I was a kid I had a couple hollow handle knives and both of them broke eventually. The reason was they were two pieces, the handle and blade. Way back when I got into knife forging and metal working I started contemplating how to make one that was integral (one piece). It finally hit me to use a fusion of forging and machining. I got a hold of some high carbon 1 1/8" round bar and bored out a 3/4" hole 4 1/2" into one end. Then I fired up the forge and started flattening out the area just past the handle to become the blade.
After a few screw ups I finally finished it. It's more a survival system then just a knife. I cut the teeth (by hand) to be similar to chainsaw teeth so they actually cut vs more saw back knives that don't. Inside the handle I have water/wind proof matches, two ferrocerium steels, fish hooks and line and a 2" piece of hack saw blade. The teeth pull a better spark then a flat edge. The handle is a Kevlar epoxy composite, very light and strong.
This is my first attempt which I subsequently screwed up. But just as well since my second attempt was a longer chunk of steel to get a longer blade.
Cutting the saw teeth with my guide jig I made up.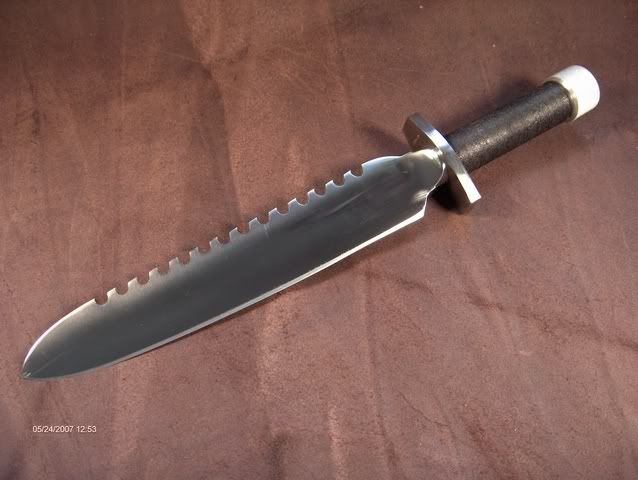 The pommel (cap) has a compass and an internal hollow to hold some magnesium thermite. The thermite mix also has some course titanium filings since they make a good ember after the initial flare up. It's turned from aircraft grade 2024 aluminum and the guard is titanium.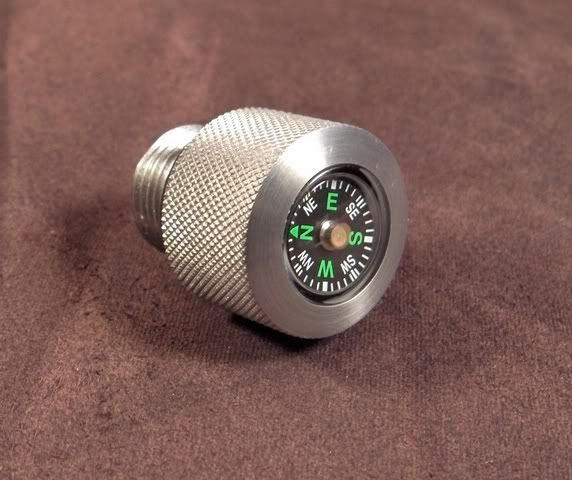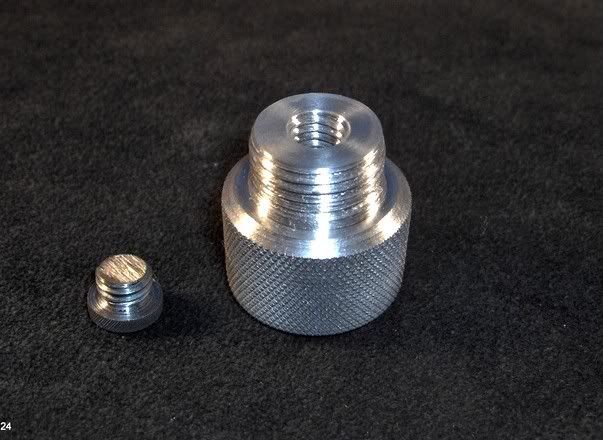 The collapsible sharpening stick is a 1/4" boride EDM stone and will touch up the saw teeth as well as the blade. The body of it is magnesium with 1/8" wall. It can be slivered off for firestarting with the ferrocerium stick inside the knife handle.

At one end of the sharpening handle is a small cavity full of magnesium thermite with a magnesium spike inside to ignite from the thermite. So the handle body can also function as a very bright signal flare when placed on the end of a stick.
Magnesium thermite is 1:1 mixture of black iron oxide and magnesium powder. With the iron oxide donating oxygen to the magnesium it will burn much hotter. Regular thermite is a mixture of iron oxide and aluminum. Usually around 75% iron oxide and 25% aluminum powder.
So now I have a hollow handle knife that is one integral piece and very strong. I am on four different custom knife making forums and over the last six years on them I have not seen anyone else use this technique for a hollow handle knife. They all make them two piece. Obviously you can make a two piece knife very strong if built correctly and I am not casting any doubt on many of them. But at the end of the day I would rather just have one piece made out of good quality carbon steel.
I have the whole process and all the steps and photos posted over on the Primal Fires knife forum.
http://primalfires.yuku.com/topic/1936?page=1