I'm finding out that one of the hardest things with tents is figuring out dimensions,what things look like before sewing the thing and working out any bugs that may come up.I think I've got the solution..Make a 3D mockup of the tent using forms and string for edges!
if you have flat walls or facets to the tent,then it's pretty simple for a mockup with all the exterior corner points marked.Dimensions can be taken right off the mockup for all the panels you need to make.For instance..here's a tent I hope to sew up this coming week(If I find the time):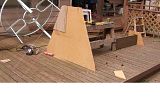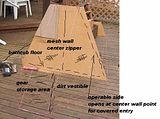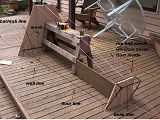 Notice notations on the pictures..later I'll add dimensions to all the lines in the drawing for finished size references and to help me remember what I had planned where..I originally had the tent 6" higher at the midpoint but for my height I figured I could cut it down and save some weight,probably 10-15%.However..I did save the panel dimensions and pictures of the taller tent in case I feel I need them in the future. A mockup is nice to set your gear in(I set a pack and boots in the vestible for height clearances)to make sure everything works out as planned BEFORE cutting any material..and then finding out it's too late to change it...Just an idea.
I've thought about round and arched tent mockups..think you'd have to use fiberglass poles and domething to hold them arched in place..might be a real pain to do that..why I went with a facetted flat-panel design this first time.