Cad Program?
Not quite everyone has a cad program on their computer..or knows how to use it.I'd be interested to see how long it would take someone to design that tent using a cad program.I cut the plywood and strung it up in a couple hours That was with a lot of thinking,changes,putting gear inside(are you going to draw gear to scale?),dropping the top 6",and redoing the top end...
I'm putting this more in the realm of DIY and something that anybody could possibly do in their back yard and with materials at hand.Basically a person just needs a couple pieces of wood for forms of the main walls,nails, and string..besides a tape measure,saw,straight edge,and a hammer.Yeah..I know I cheated and used a portable drill instead of the hammer.
If a person used a single trekking pole for support and wanted to build a "freeform" tent,a person could run all the facets or flat planes off a single point to different points on the ground,giving them the panels they need to construct the tent they desire,especially if they aren't concerned with a floor..I may do one like that.All the dimensions for the triangles to construct the tent can be taken directly off the form..and once the central post is in the ground,it should take about 10 minutes to put nails in the ground,and run strings between those points.Initial measurments aren't even needed and things are easy to adjust to make it work out better for the materials or remnants at hand,beside whatever gear or bodies that need to be covered by the tarp/tent..
Here's an example: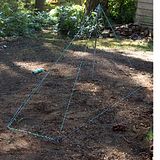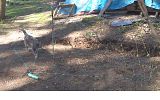 This tent design took 3 minutes and 40 seconds(stopwatch) from the point of the center post being in the ground.I can lay down in it.I can put gear in there.The points "float" on the strings pretty much so I can adjust here and there to even things out.Does it need to be perfect..Hell no!Would anybody really notice if one side is longer than the other by 1".Hell no.Even the floor is laid out for you to just slip the material under the strings and
mark it directly
whatever distance you want from the walls.if you want a tarp tent that has 6" of mesh around the perimeter when it is on the ground,those points can be marked 6" in with a 6" spike(where it hits the ground on the corner in a couple more minutes.Can you do that with Cad that fast?
..Also..it took me 1 minute and 40 seconds to have the string rolled up and the post and the stakes in a neat pile.
The inspector did show up on the job and approved the job!