here's another vintage tent I scored on..-->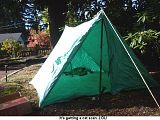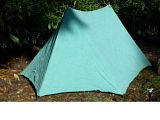 Rainier tents..1950-60s canvas tents..right here in Seattle.This one is called the Tenderfoot with a flat front,floor, and a triangular storage area in the rear.It's pretty much like new in the box(probably used a couple dry times) with steel spikes and 2 piece wooden poles,manila rope.
This is a nice simple 'copy-able' design for lighter weight materials if someone wants an easy one man tent to sew.I would extend the front like the back,leave a dirt vestibule(cooking area with a door open like an awning) area and a couple screen doors at the front of the sleeping area.It's a simple design that could be used with a couple trekking poles.
If someone is interested in sewing one up,I can take dimensions of the floor,sides,and back triangular pieces and post them.It can fit a tight two with the foot area in the back triangle(why I would add the front vestibule if two were using it..for gear).For one person,it would work as it is..just add some screening and venting at each end or along the side edges of the floor where you can't sleep anyway.
I'll probably make one when I find more waterproof nylon.I think I have the rest of the materials.