This is a story and some pictures from a recent fishing trip.
Late last year Andrew rang me , have you been to Dunns Flat, it sounded familiar, where is Dunns Flat I replied, off Mt Ginini on the Goodradigbee River Andrew said, yes I replied, along time ago though. What's the fishing like Andrew asks, it was good we had no trouble catching a few small trout. What is the track like he asks, its called Harry's Spur and was quite good when I did it, but a bit steep in places 300 meters climb in the first k on the way back, about 900 meters in all in 8K, do you want to come Andrew ask, no sorry can't make it, going in to hospital to have my heart rewired will be out of action for a while, have fun I jealously said.
A week later I picked up my ringing phone, Andrew here again did Dunns flat on the weekend got 50 fish absolutely brilliant trip, the track is a bit over grown in places after the big fires of 2003 we had trouble finding our way in places.
Six weeks later I picked up my phone again Andrew here went to Dunns flat again we caught so many fish we lost count another great trip and went to the waterfall that is 2k down stream, I replied that I have never heard of the waterfall, when I looked at the map I saw that there is an unnamed waterfall down stream from the campsite.
A few days later when I opened up my e-mail there was one from my walking/fishing partner Dave saying that it has been a while since New Zealand and that he needs to go for a walk soon, I replied that Andrew had just rang about his trip to Dunns flat and that we should go there, his reply was lets go soon as possible.
We left on Saturday morning two weeks ago at the late hour of 7 am for the two hour drive the track head knowing that it will be a fairly easy walk into Dunns Flat. When we arrived at the track head car park there was another vehicle parked there which was not really expected as this is generally tough country and this track is not visited by many people, they must be down at Dunns Flat as there was no other track that started from this point. We started walking the track was quite good but after about 1.5k it started to get a bit over grown. The first part was steep decent but the middle is flattish as the trail follows a ridge line, when we arrived at the middle section the trail became very over grown and in several place we lost it completely, one step it was there and the next it was gone. Wattles and Eucalypts grow back with a vengeance after fire and only the fittest survive in the end but they take many years to thin out. When we lost the track Dave and I went in different directions and if track found yelled out for the other to follow, as the trail followed the ridge line the track was not too hard to find.
After 2 hour 45 minutes we found camp, nobody was there, we guest that they must have walked up or down stream. We dumped our packs put our waders on as the water was very cold got the fishing rods sorted and then decided to walk down stream to the water fall and fish back upstream to camp, we had to walk in the river itself as the scrub on the sides was too thick to travel though, this was not that hard as the river is not very deep at this time of the year.
After an hour slow walking down stream we found the waterfall it was two tiered fall of probably 20 meters tall with very steep sides. We had lunch and then started to fish, I decided to spin for a change while Dave fly fished. I threw a few casts while Dave was tying his flies on, third cast bang a nice Rainbow but compared to NZ small. Dave started fishing and was pulling in Rainbows at will, Dave was using a dry fly with a nymph trailing, it was not long before he had a tally of twenty my spinning was going a bit slower but after while Dave suggested that I modify my setup a bit and away I went, the day was getting warmer and by mid afternoon I was matching Dave's fly fishing, at one stage I caught three fish in four casts.
About half way back to our camp site we heard a voice yell out from behind us, it went something like this "bloody hell we thought we where in the wilderness and would not see anybody else" Gidday we said we saw your 4wd up at the car park and was surprised that you were not at the camp site. The reply was startling "we tried to come down in the dark last night got lost in the thick scrub, found the river down stream it had very steep sides and we had to setup camp on a small island in the middle of the river, I came down about 10 years ago and the track was good." Are you going to stay the night at the camp site I asked, the reply was " naah we drank a bottle of whisky last night, me mates been sick all morning and besides he forgot his reel and I just broke my rod, we want to get back to the car as soon as possible and get home, how do we find the track" we told them how to find the track an off they went hangovers and all. Bloody hell we said this country is tough enough when sober though when hung-over and besides they had a very tough walk up the hill to the car park.
We fished until just before dark as we left some time to set up our camp and get some wood for a fire to cook the fish, Dave caught about 50+ fish and I had about 30. We kept three of the bigger ones for dinner, that night we cooked up the chilly concarne for the taco's that I had made the night before and threw the trout in the fire to cook, we finished the night off with some nice Port, I had the best nights sleep that I have ever had in the bush.
The next morning after breakfast Dave was ready to fish before me and off he went, I still had to put my waders on a few minutes later I wandered down to the river Dave had already caught 5 fish from the nearest pool, I got three from the same pool the day before.
Things started off a bit slow for me, the fish just where not taking the Celtas, Dave had about 20 trout for the morning before I caught my first after about two hours we turned around as we had to get home before dark and we had a good climb to get out. Dave had caught another 30or so fish and I had 5 more fish, the fish that I caught with the Celta's where generally a bit larger that what Dave was catching with his flies.
We went back to camp packed up and had a three hour walk back to the car, on the way up we found the track harder to follow at one place I got stuck in some Eucalypt fire re-growth that was as thick as I have ever experienced, I could not see past my nose and was walking blind at one stage I found myself flat on my face as I tripped over a fallen tree that I did not see, Dave found the track and yelled out to me, I eventually made my way over to him and we resumed our walking. When we arrived at the trail head ours was the only vehicle there so our hung-over mates had made it out.
Dave and I both have said that his was one of the best fishing tips that we have ever been on and are planning a longer trip next year starting below the waterfall.
Tony
My car at trail head with the hungover blokes 4wd in the background
The view from trail head which is of Australia's high country
The waterfall
Dave catching a trout
River at campsite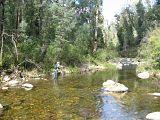 The river again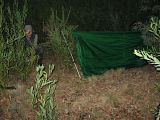 Dave setting up his tarp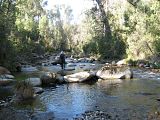 The mornings fishing
the fireplace with my new stove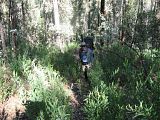 Me on the partly over grown track
The over grown track