What does it do that "woodshavings/wax/in an egg carton" doesn't?

Parker
---
catspa, 1-dozen organic eggs $5.25 to get an egg carton, because most egg cartons around here are styrofoam, plus wood shavings (I would have to ask for hardware store sweepings - no lumber mills here - and I don't have a workshop or a garage) plus melting wax in my kitchen.

It is the same stuff??? Weber FAQ says will burn when wet.


---
I use the weber cubes for my hardwood charcoal. I never tried lighting them when wet. Might have to do an experiment later today.
"People are not persuaded by what we say, but rather by what they understand."
---
Posts: 5948
Joined: Tue Feb 24, 2009 2:20 am
Location: slightly north of Seattle,WA
Here's the wife the first time she used a firestarter and cubes.(no,I don't wear jade bangles... except when I'm hiking in China..
)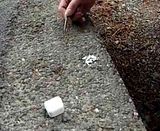 She didn't know the knife had to vertical until I told her that..if she can do it..anybody can..She likes doing it,so I let her start them up while camping now.Somewhere I do have a video of pouring water on the cube,then lighting it up and burning in a puddle..can't seem to find it..it works but might be hard to light with a spark instead of a match.Water rolls off it like a duck's back so the top half does stay dry when floating.
Maybe someone here can make a floating stove(in 5 gallon bucket?) with a surface ring that keeps the firecubes underneath it so we can prove it can be done!You can boil water while floating in an inner tube in the middle of a lake..
The views and opinions expressed by this person are his own and not the general consensus of others on this website.Realityguy
---
This isn't the original video UST had at their website.

In the original video, they scraped some sparks on it while the WetFire was floating on the water.


Last edited by
ConnieD
on Tue Jan 31, 2012 4:18 pm, edited 1 time in total.
---
Here are Lundmans grill lighters.

These things light more easily if you scrape some off the side first.

This man demonstrates you can light the package, as well. Light it inside the package.


---
Here is a comparison of WetFire Trioxane and Esbit.

Esbit has a horrible odor. It needs to stay sealed if it is inside your pack.


---
Here is WetFire vs Cotton Ball


---
---
Here is steel wool and 9V battery.


---