I wondered into the surplus store again while I was running errands. And out of pure curiosity, and the $9.99 price, I bought an Alocs alcohol stove, which is a near exact duplicate of the Trangia mini stove.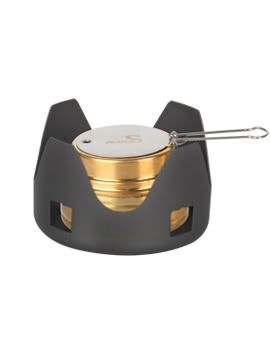 Your not going to be surprised here. It's not very well made. The outer wall is made out of very thin sheet and I was able to put a small dent in it with my thumbnail without much pressure. The inner wall is loose and out of round. The simmer ring it comes with doesn't fit the lid well when you store it. Most annoyingly of all, the lid itself "skips" a thread when you try and twist it onto the stove because its slightly too big. How can a place like China get so powerful and rich by building junk? I love how it says "Proudly made in China" on the packaging...
HOWEVER when I fueled it and lit it, the stove bloomed faster then the Trangia by far, and didn't use as much fuel (Not by much here) then the Trangia to boil 2 cups of water. It is also lighter then the Trangia. I attribute that too the thinner gauge sheet used to construct it, which also accounts for the shorter bloom time.
When I can find my Iphone, Ill take pic of it with and without the Trangia (Esbit too I think) next to it..