Okay..Yeah i got sidetracked and started/pretty much finished a new project--->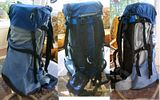 As pictured..with
just a rolled pad inside
..actually I loaded it with a lot of stuff..comfortable for my torso and the material fills out fine without wrinkles.
I used some parts from other backpacks and day packs,some Goodwill material(blue PU nylon),a piece of a eureka timberlite vestibule(gray),a laundry bag(mesh),another homemade laundry bag of black PU(black bottom),a day pack's shoulder straps,a sternum strap form an Outdoor Products hydration bag(made something else with the bladder),the shoulder pads,belts,buckles,couple zippered pockets from a heavy North Face "suitcase" style heavy backpack..and other "junk" laying around(load lifter buckles,more strapping,etc).
Total weight including the camera bag is 1lb 13oz(when finished..under 2lbs for sure) with a capacity(inside) of about 2600ci(8+x12+x26"),not including the outer mesh pockets,a 5" top sleeve(500ci) and 3 pockets on top(2 zippered small ones and a velcroed map pocket).This does have a floating lid,compressions straps,2 side mesh pockets and a large back mesh pocket.I did sew the camera bag in place to stop it from wandering.
Yet to do..I'm going to add a reachable(from the front)8oz waterbottle pocket(left side opposite the camera bag),an extension for the back of the lid (to cover the load lifter area)and some cross straps and backing to hold a bear can on the back above the mesh pocket.
This is somewhat modeled after my golites but with a larger diameter,more ties to the lid to keep it from wandering like the golites,and no neoprene pocket...which I didn't really use except for the bear can.
Sewing..was over the last 4-5 days, a period of a few hours each evening...Victoria TV sucks other than a movie between 8pm and 10pm each night..
Total cost..hard to say..laundry bags @$1 each,North Face pack was $5,day packs $1-5..blue material was $3,tent vestibule was $4(I only wanted the aluminum poles,zipper, and stakes).etc..etc...probably about $20-25...