The wife and I went back and forth as far as getting her one of the Golites in the 8 or 10..unfortunately she is oriental,short torso length,and the chance of it fitting her right is about 50% because they don't break them down to a designated "short" length.
I was thinking of getting an 8 and a 10 and hope that one fits her without modification.We're still discussing it.
In the meantime,I got up to my other house on the Olympic Peninsula and brought back my Pacific Crest 1lber convertible torso pack that I modified(I'll hunt up a link for that thread here--->
viewtopic.php?f=4&t=4624&p=32212&hilit= ... ack#p32212
).I'm going to keep that one in the van so I have it at both locations.I have a Kelty MG(Boulder?) torso one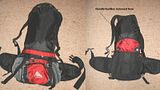 also but it lacks anywhere for a small digital camera that is easily accessible.It's started getting weight reduction modifications(about 1lb 3oz) with the removal of a top handle(used only when closed up) and a couple buckles in the "fanny" mode and other things that will be getting hacked off.They run $60..but I paid $6 at a thrift store so I don't mind making the changes to it.
The wife uses that one but has the same problem with the torso length being too long for her creating a fold away from her back at the midpoint.Modifications would mean cutting off the shoulder straps and moving them down a couple inches at the top and redoing the entire top end.It's a serious modification and would change the whole top end of the pack.
I may just add the straps I need for hang-ons to the shoulder straps and the expanding top end and keep it as a second for me.
It does have some wide waist strap areas without pockets and zippers..WHY NOT?..I think they may get some pockets on there under(or over) the outer tightening straps for smaller stuff(keys,tp,jerky,compass,ID,etc.) without too much weight gain.I might sew on a digital camera case or one of my pet treat ones..so it doesn't slide around on the strap..something that can become annoying.
Anything a person adds to "personalize" a pack for their purposes isn't a waste as long as it doesn't weigh a whole lot more.
Our dayhikes..are usually on popular trails in good weather with little fear of getting lost and having to spend the night(generally lots of people also sometimes)..so some essentials aren't too necessary and we can get by with minimal gear and smaller packs for those trips.We do carry enough to spend the night if needed and raingear because of the climate here so the convertible ones are sufficient for us having an expanding upper area of just lightweight nylon material for the lightweight raingear,tarp,groundcloth,food,FAK, and up to a 1/2 gallon waterbottle..or several small ones..without getting cumbersome and unstable...as long as they have good support in the shoulder strap area.