This is a stove I made a while ago, It is a 50mm candle tin, with 6 holes in the base. the top is two of the same lids that have had the middle bit cut out, and is joined with two small screws, the screws face up word and are at opposite ends and approx. 1mm from the edge of the lid. The screws also hold the two pieces of pipe clamp in place. the pipe clamp serves as a pot support. This stove manages to boil 2cups of tap water in about 7 minutes using the aluminum kettle. it used about 20ml of fuel and burns for 10 to 15 minutes with the pot on. Pictures follow.
And heres a video of it in action...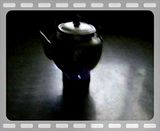 Going to try and get a hold of a wider, longer pipe clamp with larger slits.