I got a stove that burns 13 min plus on 1/2 oz. fuel.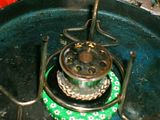 o k its a candle cup holder 4 tiki wicks up right a bullet case open both ends saw cuts at bottle to let fuel to wicks. The wicks must be below the burn hole about 1/8 so it can vaporize the brass also helps to hole the wicks in place. 8 - 7/32 holes
16 oz. water 1/2 oz. fuel 72F water 8 to 8-1/2 min. boil not roll but good steam. burn time 13-1/2 min. + now i did not bleave it myself so i did it 3 times and all the same. Maybe a little slow on boil but the burn time cant beat it.