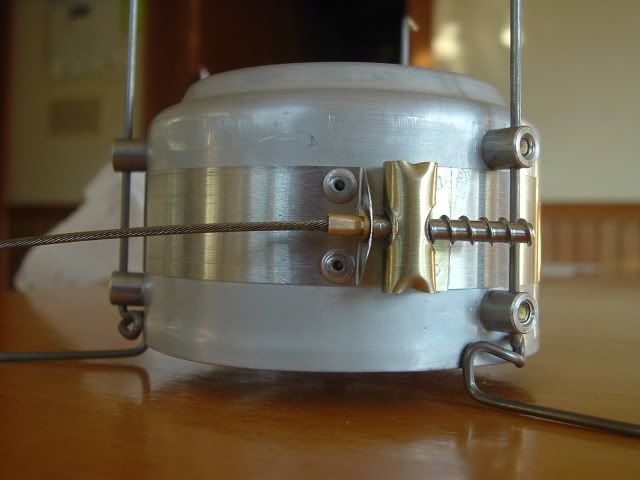 hoz wrote:

zelph wrote:This is the stove I was trying to think off.

The cat stove

Do you agree on this one Skidsteer or Pure?????

That "original cat stove" was my first alky cooker. Made just like that and I used it for several years until it started to rust. Then switched to Pepsi cans.
The cat stove made by Sgt. Rock was a spinoff of
the one made by Roy Robinson
I believe the FeatherFire to be ultimate in the evolution of the Cat Stove. It is 2 containers, the inner one contains the fuel, the outside one acts as a windscreen of sorts and directs air flow up the sides of the fuel tin, curves it over the rim of the fuel tin and then goes up into the narrow opening and out. I like the "Venturi" effect the narrowing of the opening has on the flame pattern.
Actually, the FeatherFire is made of 3 cans. One can is used to form the "Base" of the burner. Another can is attached to the base to form the Feual container can. It is attached to the base with an aluminum rivet (Not PoP Rivet). The third can is the outer can that the Pot support legs are attached to. On the inside of the "outer" can there is a ring of reinforcing sheet steel in the form of a wide band that goes completely around the wall of the can. It provides a good gripping surface for the screews that hold the pot stand legs to the wall of the "Outer Can" It also adds rigidity to the entire burner.
Alot of engineering went into this stove. Alot!
The top hole ( 1 - 1/8") seems to have an epoxy coating surrounding it on the inside of the can. It may be acting as a reinforcement for 2 reasons. To aid in the machining of the hole and to add strength for repeated heating during the use of the stove. As we know, aluminum weakens when it is in direct contact with flames. That hole is the flame contact point that transferes all the heat down and up thru the bottom of the burner to heat up the fuel in the "Fuel Can"
Three cans:
1. Outer
2. inside fuel can
3. Burner "Base"