Snow Peak GS 100
Posted: Sun Feb 22, 2009 10:14 am
i had heard good things about the Snow Peak GS 100 and decided to buy one and see if the good words were true. after the incredible let-down i had with the Crux, i was a little un-sure about spending money on another canister stove, but the GS 100 is worth it. wonderful stove!
i'm very impressed with it. packed up, it's half the size of the Pocket Rocket and weighs a bit less. very stable potstand. good solid valve that doesn't wiggle around like the Crux did. from off to full output in a full 1/4 turn makes for easy control. it boiled two cups of water in 3minutes-45seconds using 7grams of fuel.
this is the only commercial canister-top stove that i'm aware of that has a windscreen/heatsheild made for it. i bought one as well. it's made out of Stainless Steel so it's too heavey. i'll copy it in aluminum to save the weight.
stove: $40.
windscreen: $10.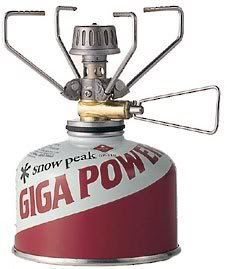 http://www.snowpeak.com/back/stoves/ultralight.html
Daren.......