Hi all at bplite,
I have not posted for a while as I have not been well, I have had a bit of a battle with secret men's business cancer, some good news is that my prognosis is looking good and even though I still have some healing to go I am getting back to normal life.
Now for the important stuff.
Have you ever wondered what is going on inside of your stoves flame, so have I and for a while now I have been thinking about how to look at this problem so the other day after on and off working on making a flame profile, I finally got something together. It is a large pot/heat exchanger with a temperature probe in the center, the pot can be moved in an X-Y directions, at the moment I can only do 1D profiles as the profiling test rig needs a bit more development and programming to do 2D profiles but that is not far away.
Below are some photos of the profiling rig, the pot has a copper coil running through which with a heating circulator and cooling unit it conditions the water to 45ºC to stop condensation on the bottom and to give consistency with the readings.
The pot is moved with a computer controlled stepper motors and the temperature probe is a K type thermocouple and the temperature is recorded on a computer. I you want to know finer details I will post more information later.
Flame profiler test rig with water conditioning heating circulator and cooling unit
Controlling computers, the one on the left controls the motors and the right logs data, soon I will only need one computer.
Closeup of the top of heat exchanger
testing a Kovea supalite stove.
Some Results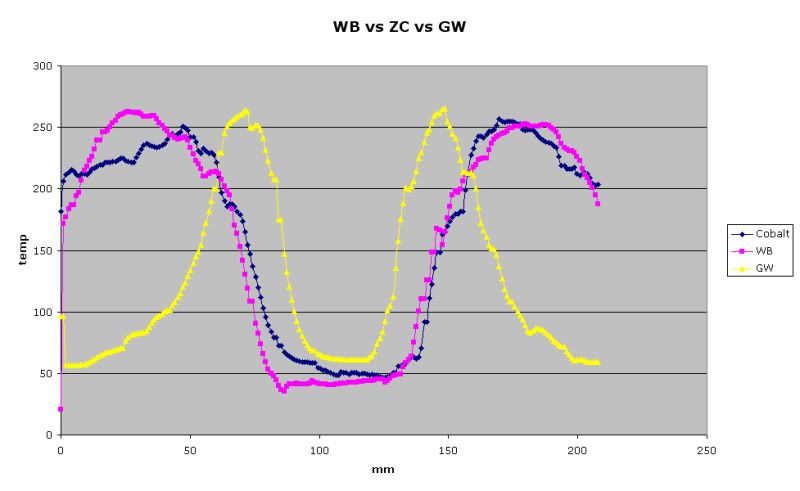 Comparing the flame temperature and size on a WhiteBox, Zelphs Cobalt and a Gram weenie, note the WB and Cobalt stoves are the same size
This graph compares a smaller version of the WB which I call the mid box, my Volcano stove and Zelphs Starlyte stove.
Note that in the case of the Starlye and Volcano that the flame still has a cool spot in the center, this is expected on the
Sit on stoves but it was not expected to be as much on the Volcano.
Tony