Stove comparison test
The Starlyte Stoves was sent to me as a prize for wining the stove of the month competition. The stove was supplied with a stand and measuring cup.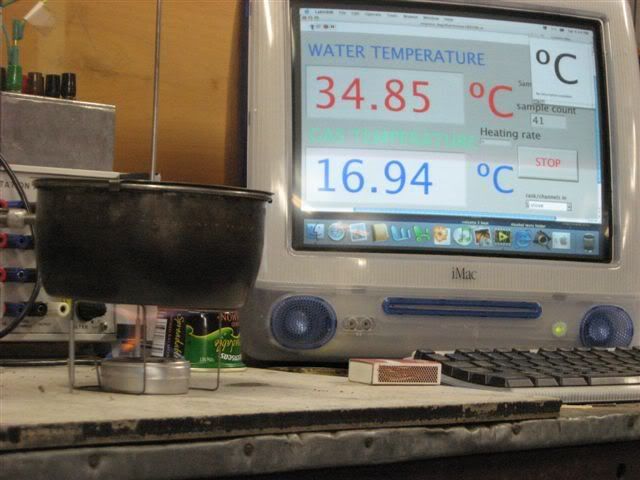 Picture of stove in test
Table of test results
Combined Heating rate Graph. (Unfortunately the ledgend was cut off, The three lines together are the Starlyte stove and the Aqua line is the Trangia)
What I like
Well made
Easy to light
Quick to bloom at 20C ambient temperature (less than 1 minute in the tests)
Very light pot stand
What I do not like
Unable to reclaim unused fuel
Pot a little bit unstable on pot stand
Unable to simmer
Testing Equipment
Conclusion: The starlyte stove is well made, very light and easy to use, I have not field tested the Starlyte, I would be quite happy to take this stove in the field. I have not yet tested this stove in cold temperatures, reports by the maker that I have read state that it works well in the cold.
Tony
Test procedures and conditions
Test standard Stove: Trangia 27. It is a reliable and efficient pot and stove system with an integrated windshield and it can easily be extinguished. I use this stove is my standards stove to compare other Alcohol stoves against.
Measuring equipment: Temperature probe:- Thermometrics 16k NTC Thermistor (response time in water of 300ms) calibrated with a Haart Scientific digital thermometer model 1502 (Tweener) with a Haart Platinum Resistance Temperature Probe model, The thermistor is attached to a Thermistor bridge which then produced a voltage signal that is proportional to the temperature being measured, the signal is then put through a National Instruments USB-6008 A-D device which was linked to an iMac running LabView software.
Scales: Mettler P2010 Scientific Scales, resolution 0.1g
Test conditions
The test where conducted in windless environment in my shed with an ambient temperature between 18.0C to 20.0C and at an altitude of 600 meters or 2000 feet.
Test procedure.
The pot was tared on scales then filled with 500g of tap water a specially made Stainless Steel lid with hole for probe was then place on top. Empty stove burner was tared then filled with 20 grams of fuel, the stove was then placed in base, the logging program was started, the stove then lit and the pot and upper shield placed on lit stove, the Thermistor probe was the placed in water at a height of 1.5 cm from bottom of pot, this took about 10s from program being started. The measurement interval of 1 second was used.
When water temperature reached 95ºC as quickly as possible the probe was removed then the pot was removed and the flame was then extinguished the stove was then weighed all measurements where recorded.
This procedure was repeated as close as possible for every test and repeated three times for each fuel, an average of the three tests was taken as the result.
Why I use 95.0C as the high temperature limit
The boiling point of water is affected by several factors mainly air pressure and impurities in the water. The altitude of my lab is 600 meters and I have measured a varying boiling temperature with a master thermometer at around 98.40C, for this reason I have chosen to use a temperature of 95.0C as my termination point of the tests and the extrapolate the results to 100.0C.