oops56 wrote:

realityguy wrote:Actually..looking at oops! again..he's got me beat!Can I steal that picture to keep the wife off my back?

Sure go head save be sure make a 11 by 14 frame it but dont give her my e mall he he
Should I bring one of my own or have you got one handy for shootin'?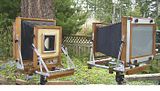 That's how I use up my small scraps...