here's some pics i took on my week long solo trip. i'll add explainations of the pictures as time allows.
the first day i took the ferry over to Swartz Bay and was on the water at 11:30 Am. i paddled around the south side of Coal Island, through the Little Group, and southeast to Forrest Island. along the south side of Forrest, then northeast to Gooch, along the north side to the campsite on Rum Island. the leg from Forrest to Gooch was interesting to say the least. wide open to Haro Straight and the wind came up out of the east. beam on, four foot wind blown waves breaking over me. to put that in perspective; the top of my head is less than three feet above the water.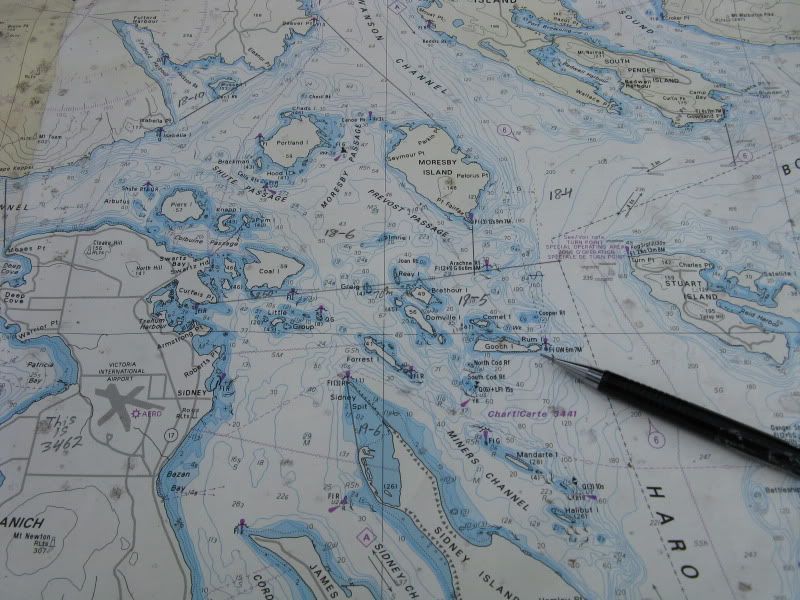 calm water in the Little Group. this was before my waterproof camera crapped out. again! smarter this time, i had two cameras.
Home is where you hang your hammock. i had this place all to myself for three out of four nights.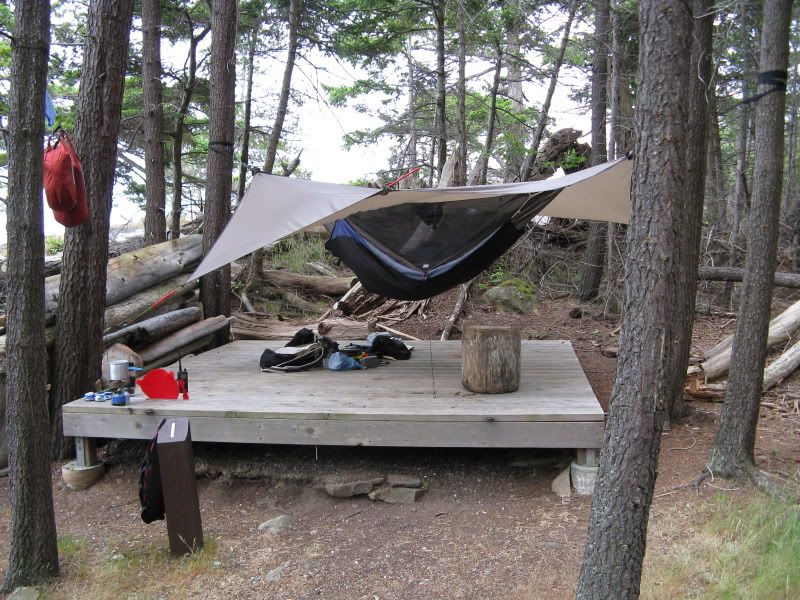 for the landlocked souls, this shot was taken at low tide: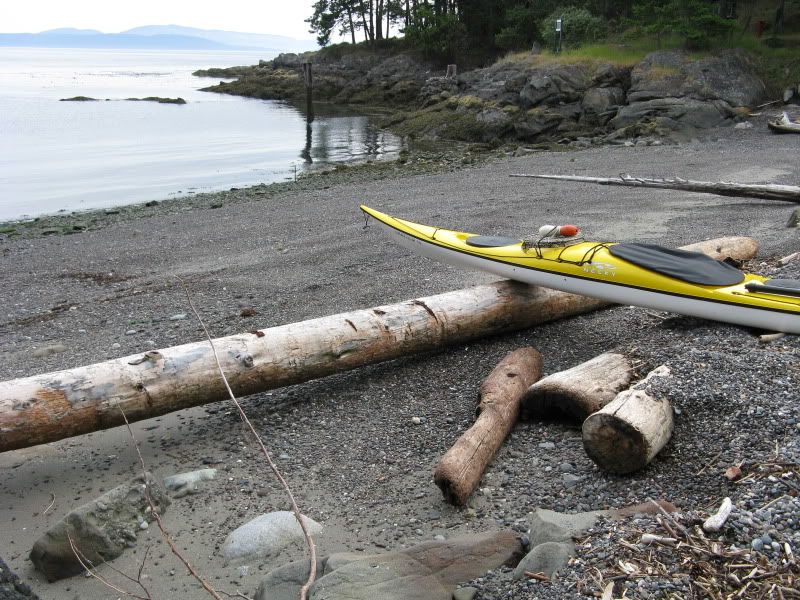 this shot was taken from the same rock at high tide. at this time of year the tides run about 9-10 feet vertically from low to high and back.in a few weeks we'll be seing as much as 14 vertical feet. (IRA: what do the tides run over on your side? i'm curious.)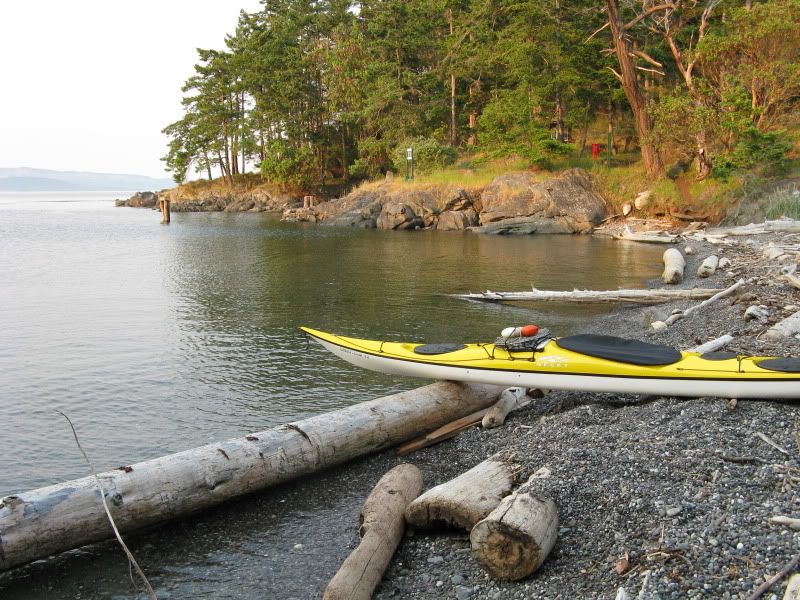 Canada Geese are not too hard to find out in the islands. and they are pretty much unconcerned about people. here, Mama and Papa keep a close watch on their younglings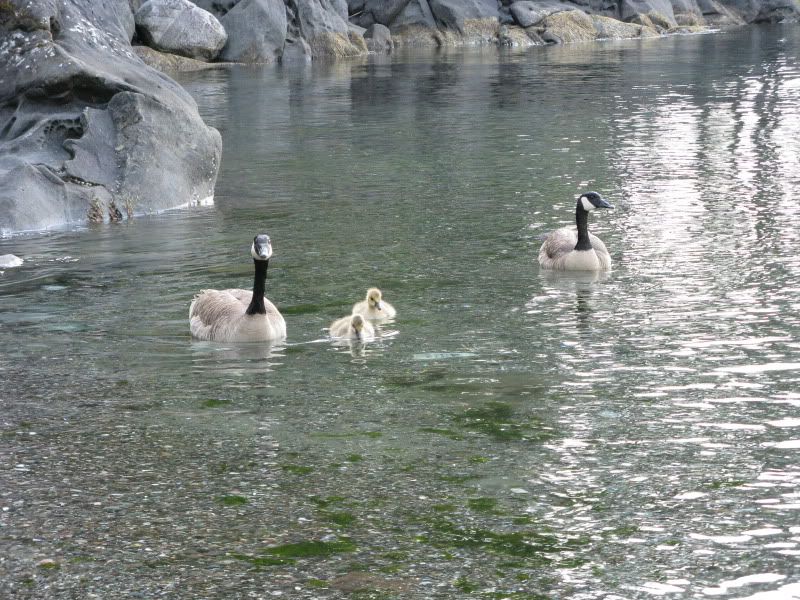 a 'Prickley Pear' Cactus, in flower!
i was shocked to find this patch of cactus on an island in the ocean. i thought it would just plain not be dry enough for them. who knew?! the patch was quite extensive, coverring about 12 square feet (~3'x4').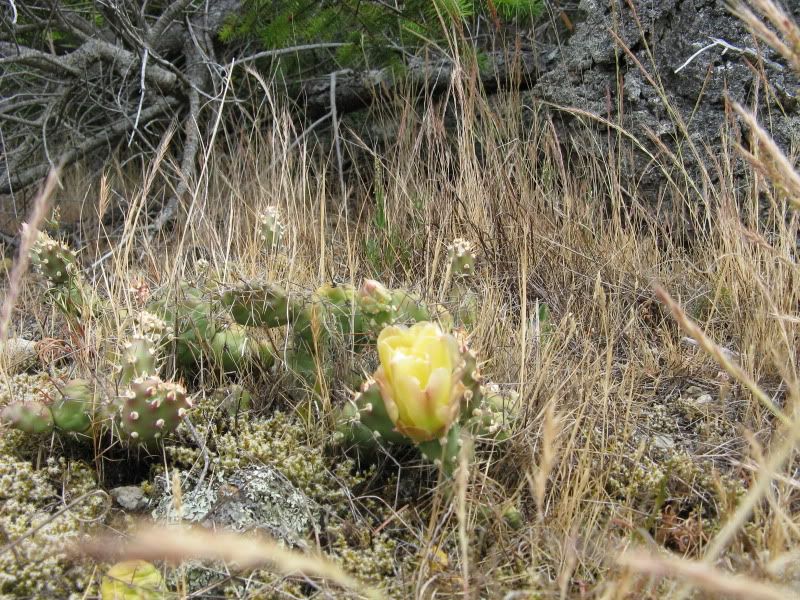 dinner was heavenly. Bratwurst sausages over a fire. (i'd already eaten the first one before i thought to take a pic
). i always carry some fresh meat or sausage to have within the first couple days. poultry i wouldn't try to keep for the second day. it turns too quickly. sausage can be ok after 3-4 days, i've found, if it's kept in the kayak, right against the hull. the Pacific ocean up here never gets above about 55*F.
something else of note in this pic is the geology. notice the veins of different types of rock. the MK1 stove rests on solid rock right next to a vein of aggregate. the entire side of this island is like this. ribbons of different types of material.
i don't often shoot sunsets. it's just done to death. this is different as it was shot about an hour before actual sunset time. the orange sun with the vivid carona is caused by smoke in the air from forest fires. it was not too bright to watch with the naked eye.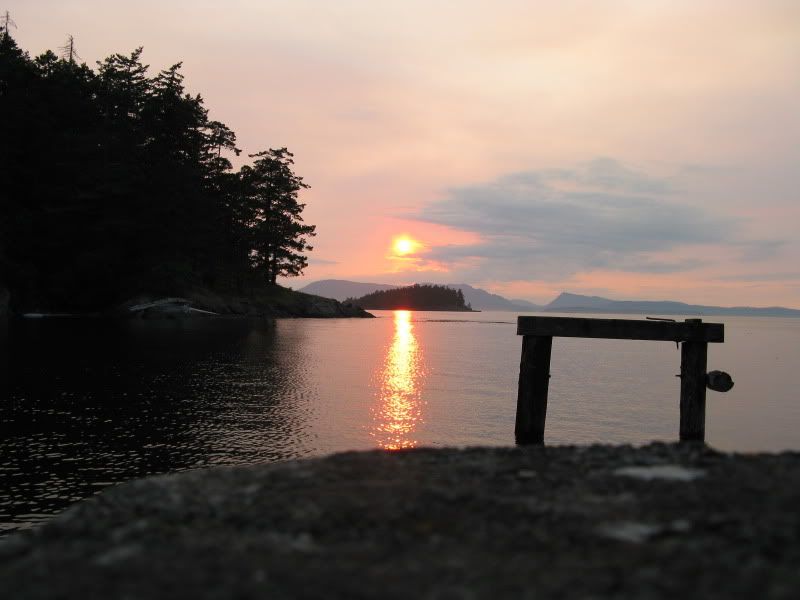 my little island had visitors in the night. now don't get all excited RR; these little deer are stunted from living on small islands, in small enviroments. they are full grown at about the size of a German Sheppard dog. like the geese, they are pretty much fearless. some years ago i had a doe sneak up behind me and touch me with her nose. scared the crap out of me! i had no problem clearing the campfire!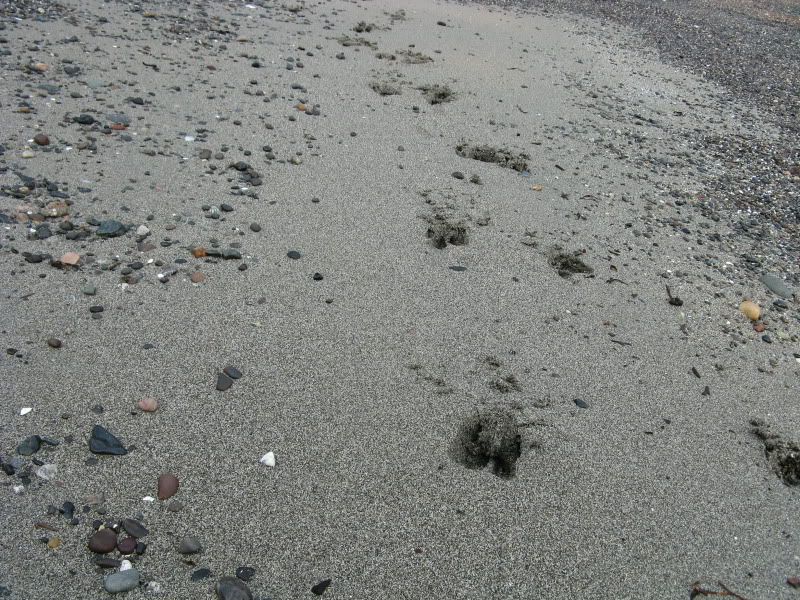 i'm so pleased to have gotten these pics!
once hunted to near extinction for their fur, Sea Otters are making a comeback. there's three in this pic, hunting for fish as a team. i was upwind of them so one is checking me out while the others swim a little ways off.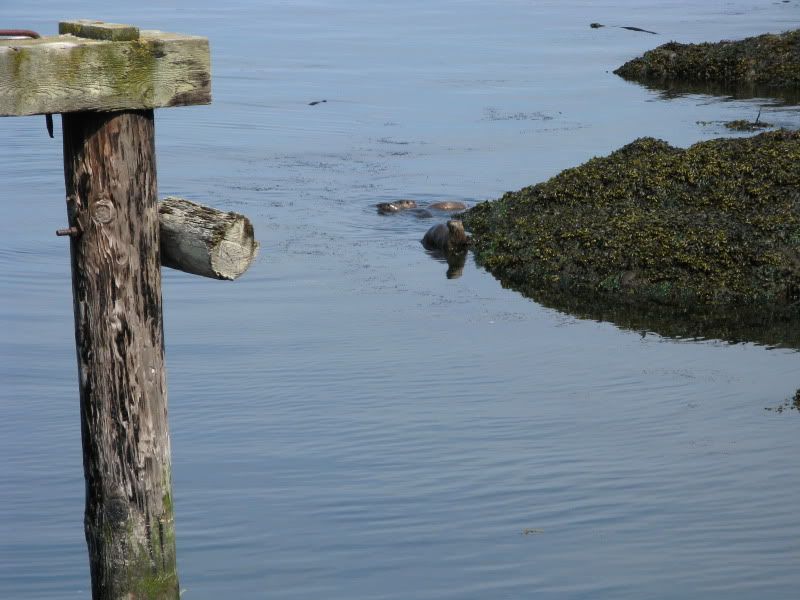 shot with all the zoom i had, you can just make out the fish hanging out of it's mouth.
i saw a couple green garter snakes, and found this shed skin between two rocks. about 18" long.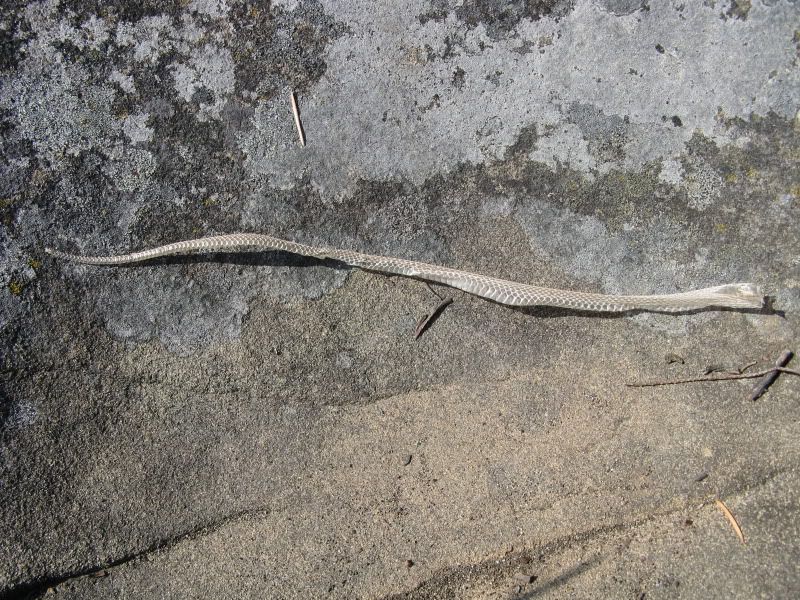 calm evening on Haro Straight, a commercial fishing vessel heads for port.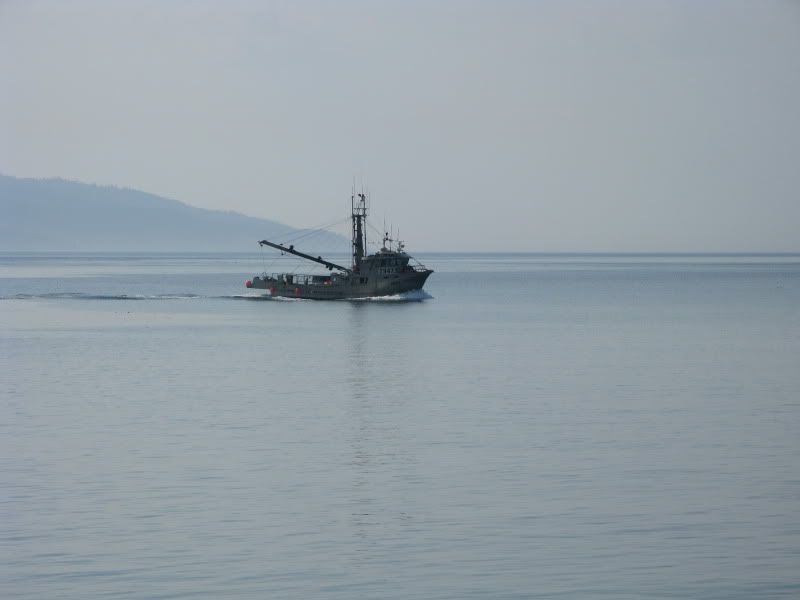 foraging for food on the ocean.
i don't know the proper names for some of these. maybe RG does. further research has given me the names of these plants.
Bladderwrack.
the puffy looking light green floats of this plant are edible. just pass them through boiling water. they overcook very quickly and become mushy. the flavor is salty and mildly green vegetable-ish. very abundant and easy to find on any beach, or floating free in the water.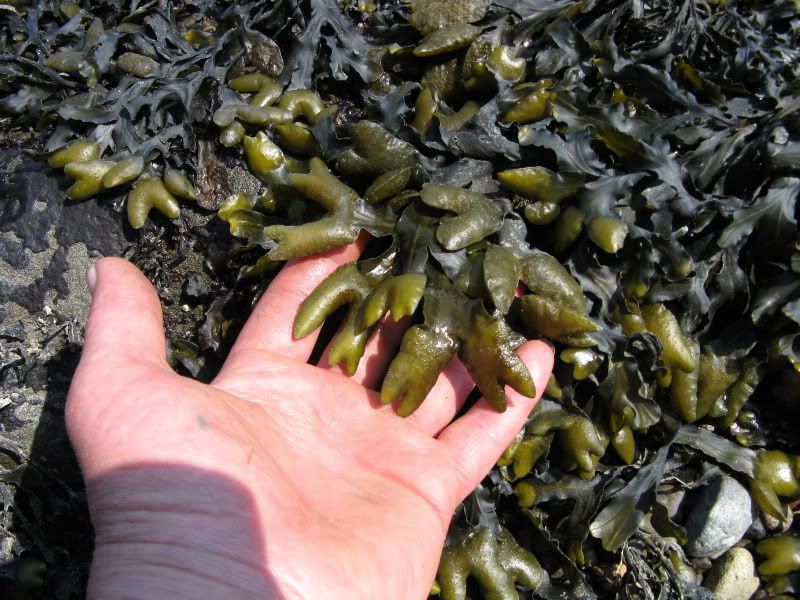 Bull Kelp. the fronds, growing out of the float bulb, are the edible part. same cooking treatment as above, or can be quickly saute'd. i've also eaten it raw as an on-the-water snack. a bit of a slimy texture when un-cooked, i don't mind it though. salty but more or less flavorless. i've heard they can be deep-fried.
they grow to the surface in water up to thirty feet deep and often break free of the bottom and end up on a beach. i've used them as a "sea anchor" on occasion. i just pick up the bulb and drape the fronds over the deck of the kayak.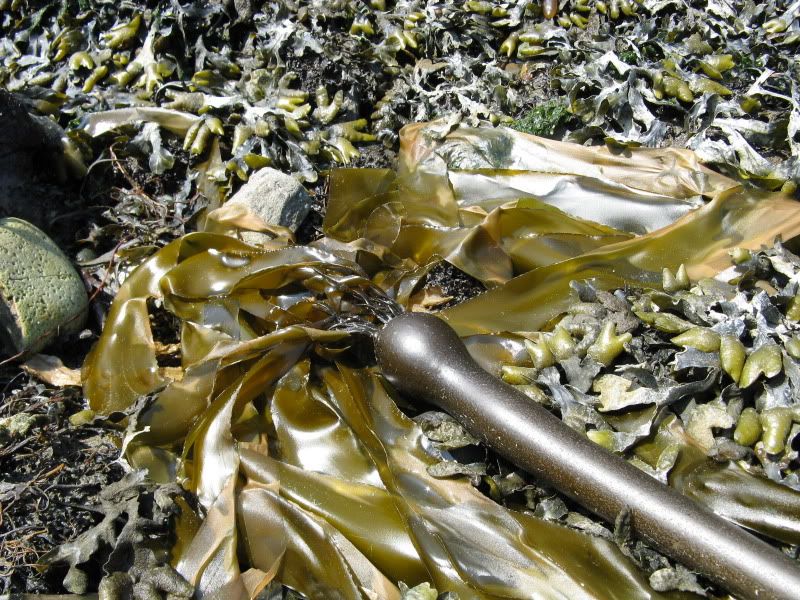 Sea Lettuce. again, quickly in boiling water. salty green vegetable flavor. mushier texture, and slimier. not my favorite, but i've eaten it a time or two.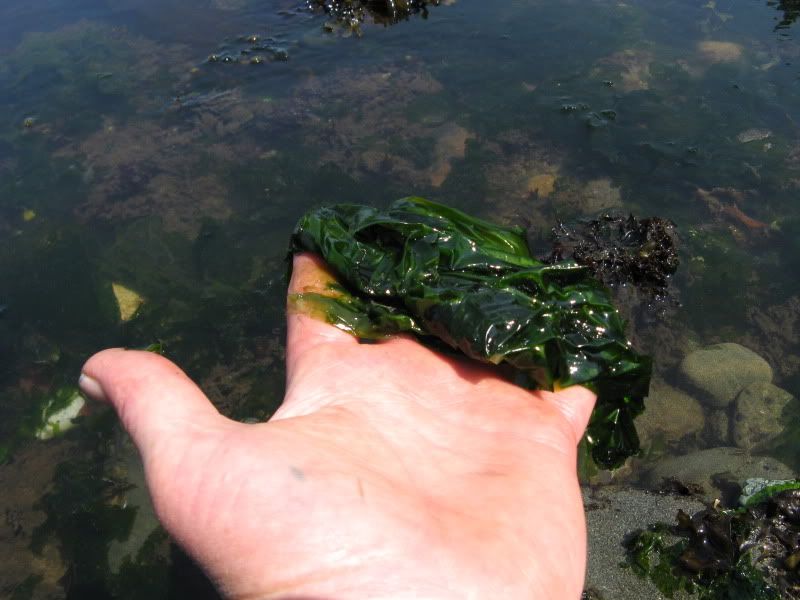 Kombu. this one is harder to find as it grows deeper and doesn't reach the surface. the leaves are huge and heavey. the one i'm holding is about 18" wide and at least 5' long. being less delicate, they can stand a bit more cooking. they have a nice flavor that is slightly salty with nothing i can compare it to from the dirt-based world. short of scuba diving, the only way to find them is washed up on the beach at low tide.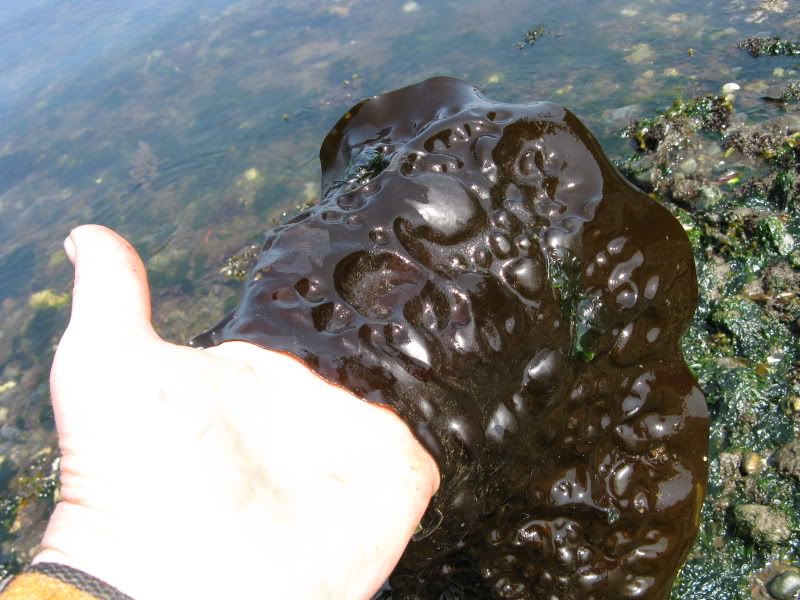 i am really fond of shellfish.
these are "Limpets". a cousin to the Abalone, these grow to a max of 1.5-2" and are easily found at low tide, clinging to smooth rocks. it's a bit tricky to harvest them. i use a small knife and quickly slip the point under the edge of the shell and flick them off the rock. not quick enough and they clamp down hard. so hard that the shell will shatter before they come free. soak them in fresh water for a half hour and they spit out the sand they carry. they can be boiled, or roasted in a bed of salt. very tasty, if a bit rubbery. don't overcook, and they are more tender. i'll often walk the beach rock on a morning low tide and collect them for my breakfast as i have my coffee.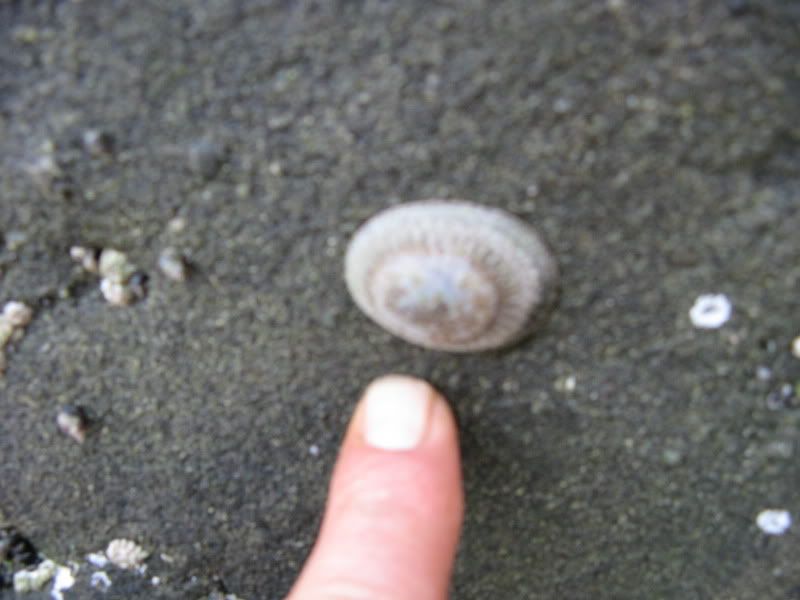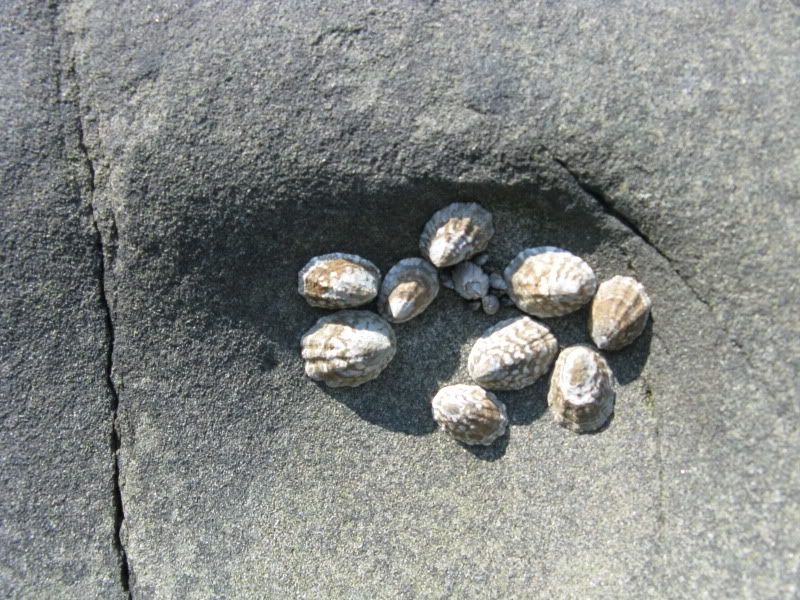 clams dug from the sand at low tide. watch the sand for a spurt of water. there's a clam on the other end of the spurt. just dig 'em up and soak them in fresh water for a while to clear the sand. boil them till they open up, and eat 'em. yummy!
on the right is a "Moon Snail". think 'Escargot.'
Mussels. these are small California Mussels. too small really. i've seen them as big as six inches long. easier to harvest than clams. stronger flavor. treat and cook them the same as clams.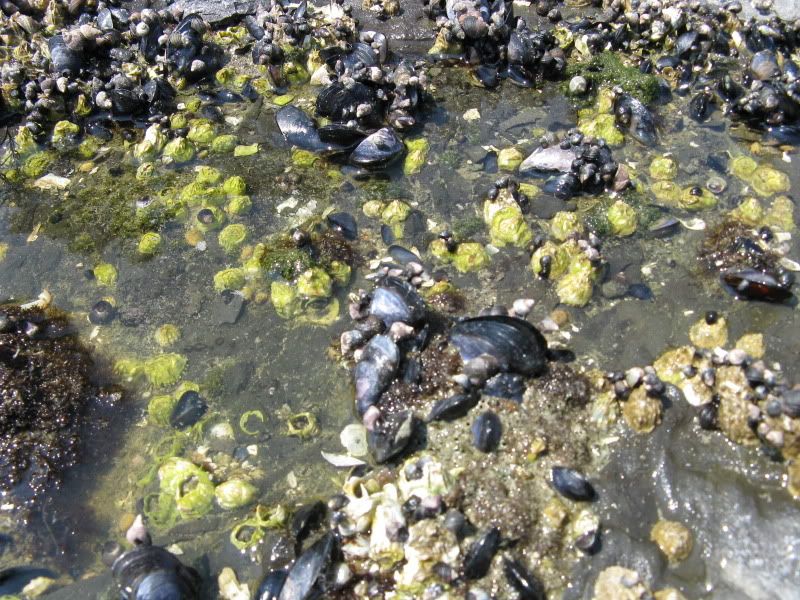 on this trip i was unable to land any fin-fish and crabs eluded me completly, but i certainly didn't go hungry. (see my last two pics for the Oyster-Fest.)
packed up and a three hour paddle gets me to Portland Island for my last two days.
a Raccoon hunts for his dinner in the rocks at low tide.
this huge pile of white "sand" is actually crushed shell. it's called a "kitchen midden", and is a sign that first nations peoples once had a village or settlement here. this is where they would dispose of their shellfish shells, fish bones, and the like. as time goes by the action of wind a water breaks down the shell into what looks like coarse sand.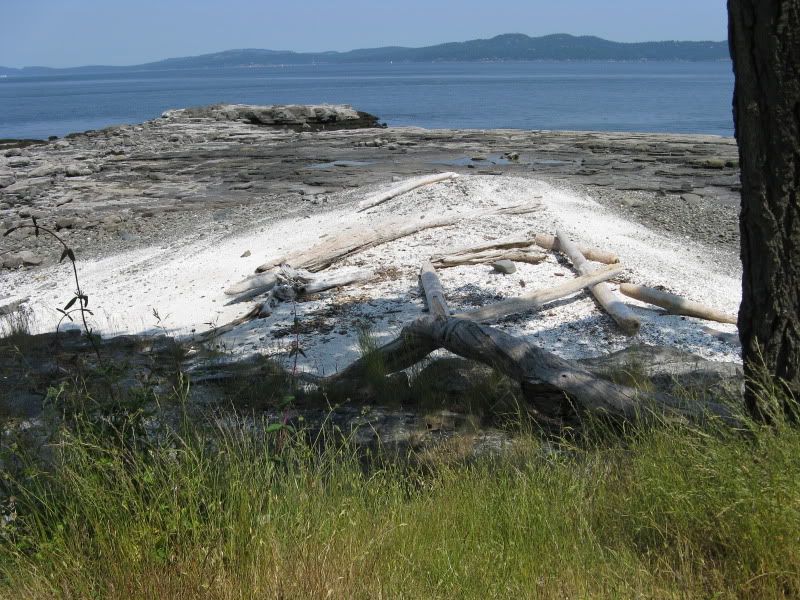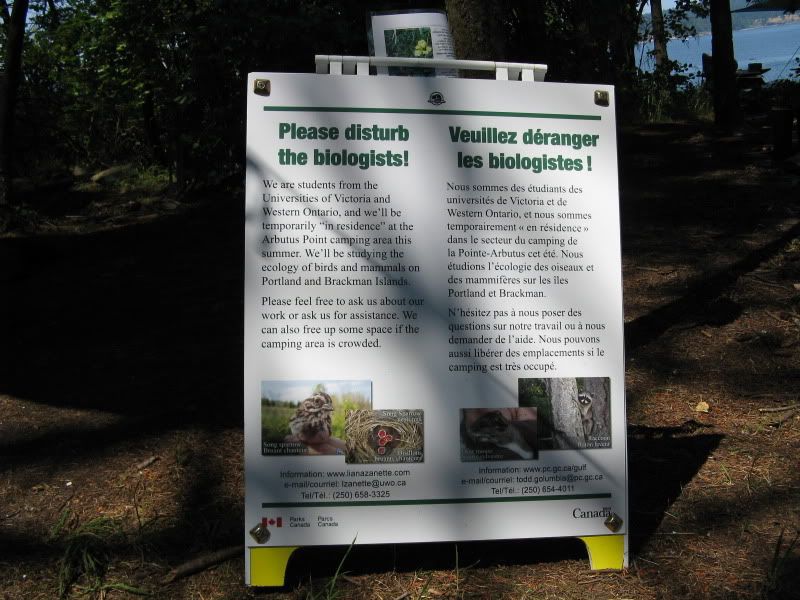 as the tide falls, and this rock dries, seals come ashore to bask in the sun. there's a lot of seals on that rock!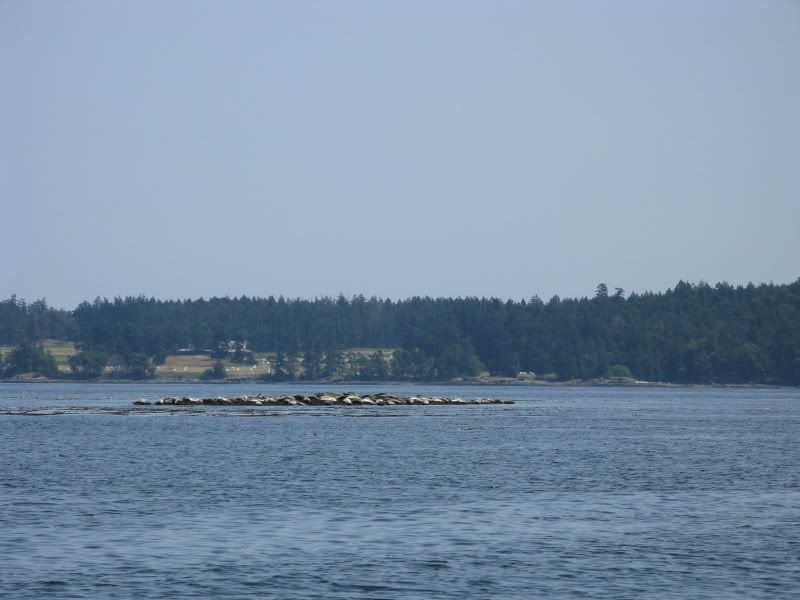 Starfish. these come in many different colors. nothing to eat here.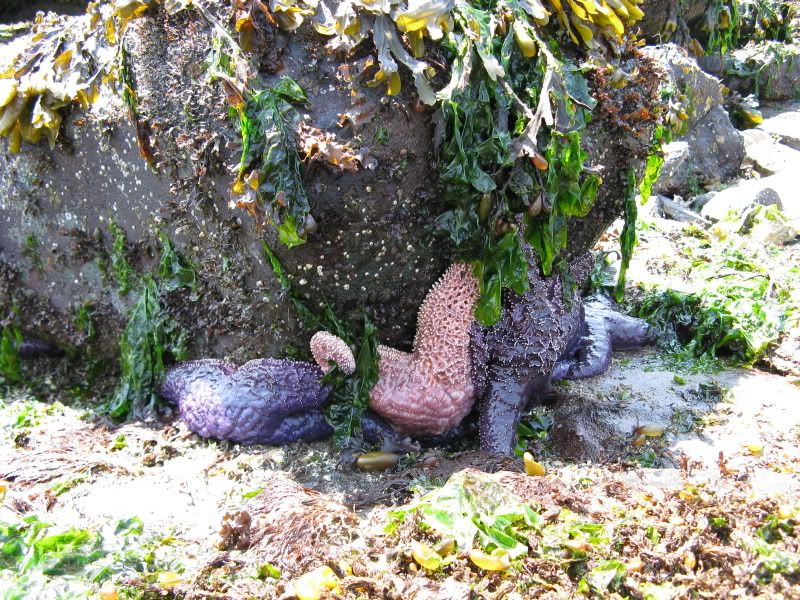 my last nights dinner was seven big-as-your-fist Pacific oysters......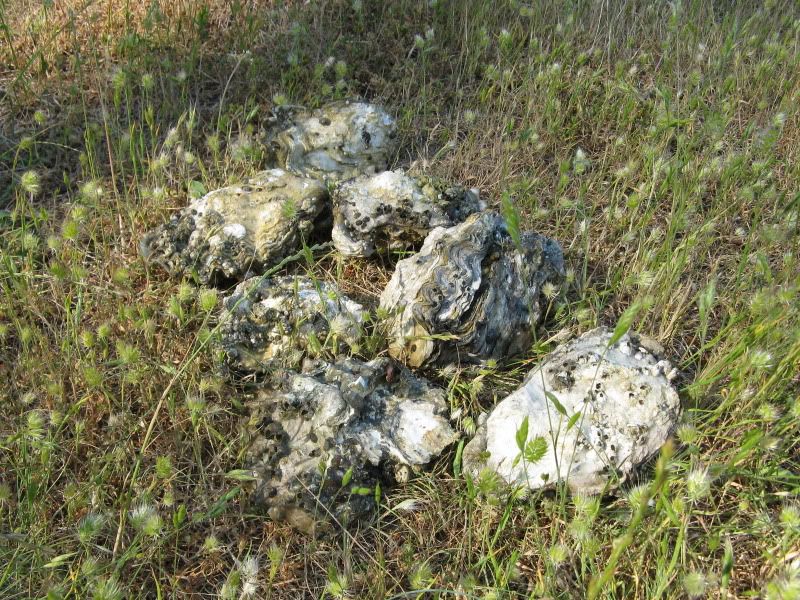 ...dredged in seasoned flour and pan-fryed.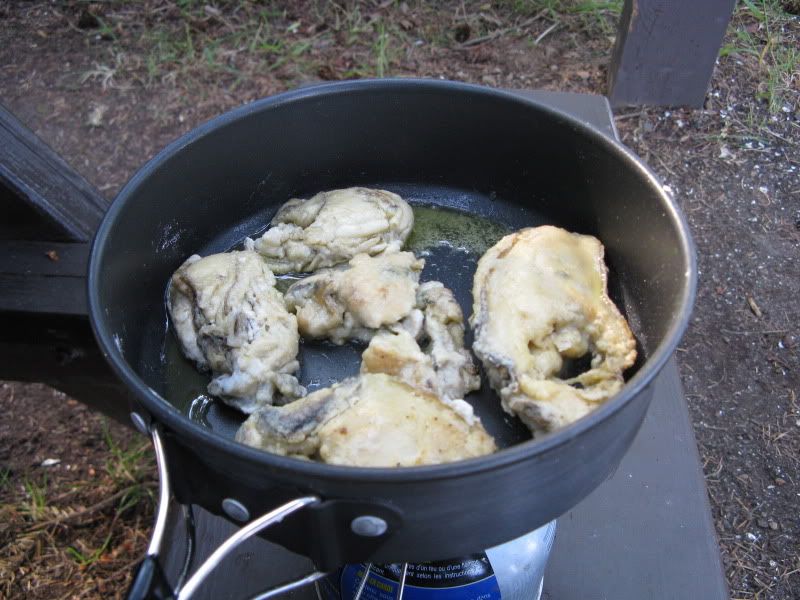 Daren.......