Working on one.
Had idea to use 4 inch aluminum elbow. Twisted it to form straight piece. All of its lines give it strength and character Shows it compared to heinekin pot. pot fits inside for storage, u shaped stainless piece inserted through upper row of holes holds pot while heating.
Secret to cleaner/less soot cooking is the use of completely dried, no bark twigs. Put pot of water on when fire is hot. Never restrict oxygen.
I use jute twine as tinder starter. Lights with a spark. I use ferrocerium rod and steel striker. I carry the flint and striker on my key chain. Always have them with me. Fire starting tinder can always be found in the woods, even in wet/drenched woods if you know where to look. Learn how, it may save your life someday. Hypothermia kills!!!
Stove drafts really nice, 3/8 inch space around pot when set into stove.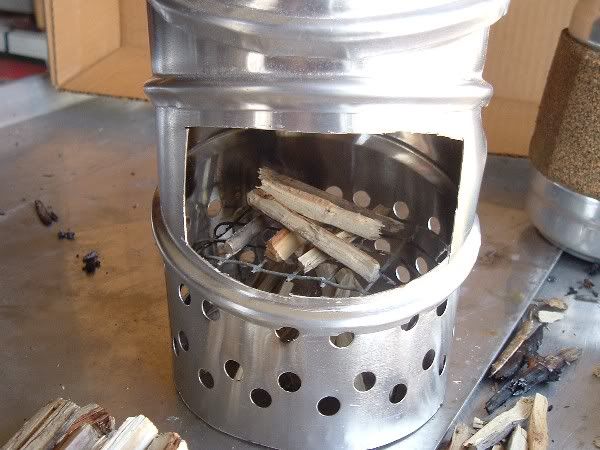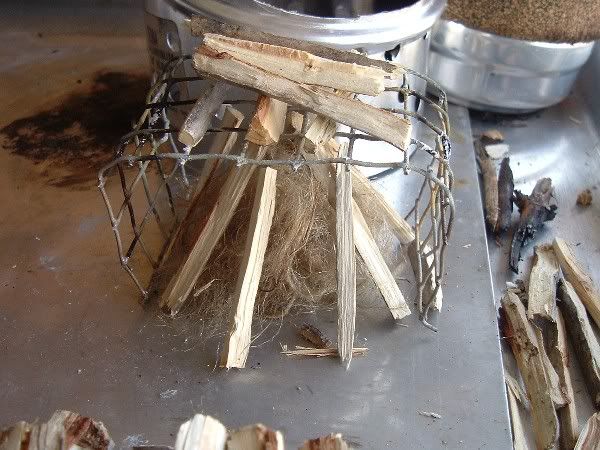 Fired up the stove tonight and got some photos.
They show how most of the heat goes up the center and not out the front where the fuel is fed in.
When you are hiking look around you, there is fuel without bark attached, no need to strip it off. Take your time, plan ahead, collect it as you move along to your destination.
Used a vegetable can as my pot(Hiny one won't fit because of cork insulation) Can holds almost 2 cups water. Rolling boil at 7 min. Boiled over the side and put the stove almost out.
Stoves are fun.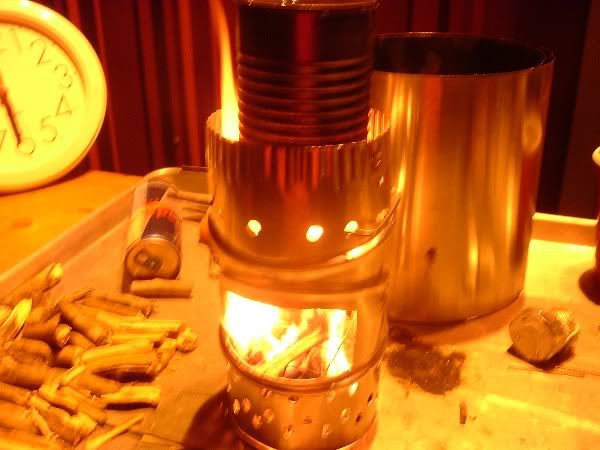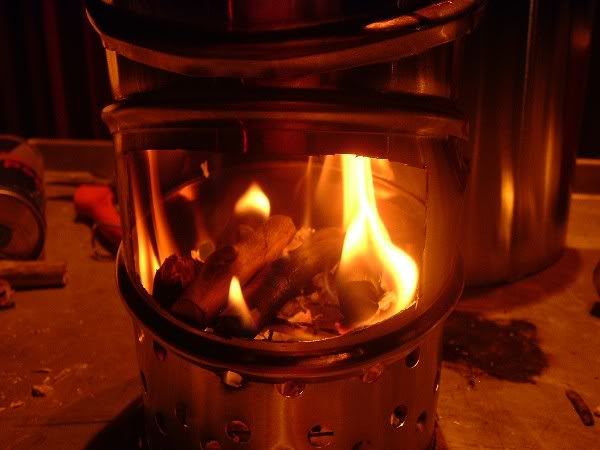 The 1/2 in. hardware cloth that I used for the twig support fit snug against the walls of the stove not tight. I was able to light my prepared tinder pile without having the stove in my way. Once it was for sure going to stay lit I put the stove over it and then added more twigs and then put the pot of water on top. Starts to heating the water like right now!!!!!! By having a swing damper you would have to work in confined quarters and maybe have a hard time inserting a support grid of somekind for added fuel. Always wanting to provide oxygen to your burning fuel to keep it going. Just as it states in the great information provide by JAK ( thanks much for the info on the rocket stove, lots of good info there to consider for future use and for the present use also) Keep the twigs/sticks separated a little to get air passing around them.
I had to stay close at hand to feed fuel into the stove, dry wood burns fast. I got a 7 min. boil I think it was. 7 min. goes by pretty fast when your having fun
If you look at my photos you can see the stove is burning pretty hot, flames going up and out above the rim of the stove. Will take a little practice to govern the rate of adding fuel. I've only made 2 burn tests, but look forward to alot more. Something about a wood burning stove thats comforting. The flikering flames etc. etc. When the weather cools, I be going out for a 3 dayer with this little wood burner, alcohol stays home.
By the way!!!!!! the little u shaped stainless steel piece comes from a windshield wiper blade.(the piece that supports the pot) It acts as a stiffener/support piece for the rubber. It's one of the handiest pieces of small ss that you can have around. Quick lube places have lots of them in their trash during the early winter season when everybody gets their wiper blades changed. They can be used to unlock your car if you accidently lock your keys inside. Ther are many many uses for these strips of ss. Thats one for the books. If you have heard of it before, disregard.
I'm going to make 2 pot handles using the wiper blade stainless steel strips. Just recently purchased 2 aluminum cake pans that are 2 in. deep and 6 inches in diameter. They weigh approx. 1/2 ounce more than a Kmart grease pot. Cost 5.95 each at Michaels craft store. Boil times are same as grease pot. Use 2 salvaged boy scout issue pot lids, they fit perfect
Total weight came out to 71.5 grams/2.52 ounces
.