Here's one I picked up today..a vintage LL bean canvas tent in very good condition without rips or tears..needs a cleaning though..got some spots and smells like pipe tobacco.I rarely pick up canvas tents..but it was complete and a nice design: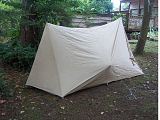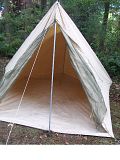 It's basically an A-frame tent but with an added vestible for gear/clothes storage in the back end..very roomy inside!The main rectangle floor is 7-3 in length x 5-10 in width with the additional triangle in the back adds about 22" at the center point(triangles up to the back pole point).The height averages about 54" at the peak.I can stretch out the ridge and take the sway-back out of it more,just that I staked the higher side ties out before finishing staking the back end.
This would make a nice car-camping size for two..or a VERY roomy backpacker made in lighter materials.I think it would be pretty simple to add/pitch a standard tarp(12x12?) over it for rain cover.The front mesh/doors are a 3 zipper setup;2 horizontal and 1 vertical top to bottom with a 3" bottom canvas lip to keep dirt and the wet out... that opens up completely like the doors.It's nice to be able to actually WALK rather than CRAWL in the tent because of the increased height.
The age of the tent is unknown,but it does have the "LLBean" Signature type logo and "Freeport,Maine" on the tag at the bottom of the door.This might make a nice civil war reenactment tent..but cheating a bit with aluminum poles that could be changed for wood ones and appear more authentic!