Had the day off so went TS(thrift store for people that don't know me) shopping...
Camping gear-wise..only an old 1956 red Coleman lantern that ain't no beauty but good for parts or for me to use..at $5.Found a Petzal headlamp for $1 with good batteries(non led)..a bunch of other cheap junk and something I just couldn't pass up:A vintage Hakakawa Bicycle Special commuter bicycle from probably late 40s or early 50s..Interesting..It's from the time before brake cables for handlebar mounted brakes and uses push rods instead,,however it does have a caliper front unit and a strange side drum brake on the back hub(all push rods down to it).Over all it isn't too bad for being probably 60 years old..needed quite a bit of cleaning and still does.The handle bars are rusty,rims have some rust spots but will make a good vintage cruiser on this town's bicycle paths.I filled the tires with air and somehow they are holding..single speed.I think it was owned by a short Japanese person because the seat stem needs to be changed to something longer..short for me at full extension and I'm short at 5-7!It does have the original leather Hakakawa seat!
Here's some pictures: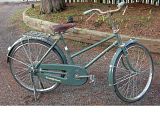 I tried googling the "hakakawa bicycle' and got nothing..It doe have MH written all over it,even the sprecial chrome fender brackets at every strut say the "MH"..still couldn't really find any info about it.
Oh well..another bike in the garage..just too cool to pass up.
**One more thing..it's not as small as it looks,oversize 26" tires and wider rims...