At 7' across the flats,for one person,the tent should be more than adequate and plenty of room for gear..figure from the centerpole you'd get half the tent for sleeping and the other half for gear.With a stove inside the tent..it pretty much has to sit close to the center of the tent..things could get cramped..but should be do-able.
By creating a tipi instead of a dome,the major factor is reducing about 1/2 the weight or even more because of the elimination of the pole system needed for the dome and extra strips of material at the seams.The material I took off the seams was tapered from 0 to about 4 to 4-1/2" wide at the center and back to 0 again..multiple that by 12..and you'll see that there is quite a bit of reduction in material converting the dome to a tipi.
Unfortunately..that geodome of Cuz's fly has a problem becoming a tipi because of the cut of the fly..it has large sections cut out for the front and back doors and it would need some mods for those two portions..or replacement panels made from some other tent.I'm not sure of the cut of the fly of the tent with the bad zipper..but it might make a good candidate..other than not being Camo for his needs(spray paint?)
A good tipi tent constructing dome fly is one that completely surrounds the original dome tent to the ground on all sides with a full height zipper to make it complete and less work.
I really don't need a bigger tipi because I still have the
huge
Mckinley 2 tent(12'x12'?)..but that may get sold shortly..I've had offers to $100 on that but I would like more..like $150..for a 1978 huge unused unique REI prototype tent complete...If I get good weather,I'll throw that up outside somewhere.It's not exactly "camo" either with a blue/ yellow body and bright red fly. By chance..are turkeys colorblind?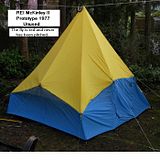 I do still have the canvas Boy Scout Miner's tent from the '60s also.I did post dimensions for that on a thread in case someone wanted to copy that one.A four sided dome fly should work well for one of those..or something similar.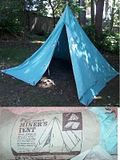 I think I have a 4 sided cheaper dome tent and fly somewhere.I may resew up one of those just to see how it comes out.It should be the same size as an REI quarterdome's footprint if I remember right.Somewhere I do have one more 6 sided dome fly also..think in a dark blue or green if I recall...with no tent.That is another candidate for a tipi that maybe lighter yet because the material I believe is lighter in weight than the camo one.