I found this about a year ago and like wearing the thing for day hikes.It weighs nothing and is comfortable.It is a fanny pack..
but
..the top unzips for a full set of straps with waist belt and a larger 2nd upper compartment..weight originally was about 12oz or so.It lacked any way to tie anything on the upper exterior when in backpack mode..something that always bothered me..fixed that problem this afternoon in a couple hours--->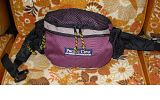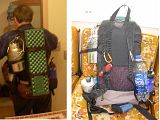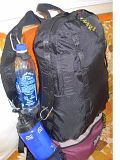 Anyway..added a continuous nylon equipment strap sewn every two inches over the top and down to the "fanny pack top points" so you can tie on the sides and top.It has a couple tie-points on the bottom for original equipment so that was taken care of already.
I also added two strips on the back about 6" apart for tying items down the center of the back.All the back straps can be used for compression also..
I've also added a couple equipment straps on the front straps for hanging water bottles,knives,flashlight or anything from a carabiner.
New weight is about
16oz
which does include 7 straps w/plastic buckles that can go anywhere on the pack,depending on the need at hand.Keep in mind that this is a two compartment pack with the lower fanny compartment padded on the back and great for harder items like stove.The top portion of the fanny pack converts as a "fillable back zippered pocket pad" at your lower back..so you can pad that small portion for support.There are two exterior mesh bottle pockets that I'm going to add a couple safety elastic straps with cord locks that will go to the equipment straps behind near the top of the bottles.
The brand name on the fanny pack says "Pacific Crest Authentic Outdoor Goods".This was a thrift store buy for $2!If anybody runs into one of these in a
retail store
..please LET ME KNOW!I want to buy and modify a couple more,one for the wife and another beach hiker...
Overall the pack is approximately 9"diameter by 22" and holds quite a lot!
Fully packed with everything but a little clothes,my food and water(two empty bottles included..one is a katadyn filter)..and carrying a 3lb bag,3lbs of hammock and tarp,and a 1lb bear can..weighs 12lbs ready to head out the door!..All other gear is included(FAK,knife,full kitchen,flashlight,compass,etc.etc.If I drop to my 2lb tent,and 2-1/2 lb bag..I'll fly down the trails!
One more thing..the "fanny pack" picture..was taken after the mods.all the straps,new equipment straps still fit in the upper pocket,leaving the lower one the way it is for standard day hikes.The waist belt does have a couple pockets for keys,mp3 player,etc.Those two pockets were original equipment.
If I get more ambitious..I'll probably add a lid over the top with a couple more pockets(or not probably
).The top area is coated material already but I do need to seamseal my new stitches for waterproofing.
And..this is the original pack without the added straps..plane jane version as it comes..just found the old picture--->