Gregory tent...I think a Mountaineer II..It's tough to find out anything about Gregory tents because they only made them for a few short years back in 1991-93 or 94...There isn't hardly anything on the net about them but I put out some inquiries from a couple friendly "gear" websites..(compass,oregon photo).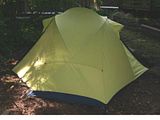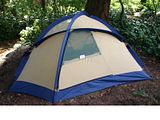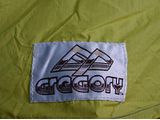 Appears it was used probably once only because it had a few twigs inside... and no top /side spots at all ..just some under the tent floor.
Look..no cats!
..they both showed up later to check it out though...
It was a
quick pitch
to try and beat some ugly rainclouds...
Sleeps two..two doors,two vestibules,3 Easton aluminum poles,7lbs 12 oz(with three stuff sacks,stakes..hey..it's
four season
!),..Similar to a Moss design!Pretty cool tent!