I started this as a "double" hammock several months ago..but the width of my material is only 44"..so it became a heavier duty hammock with a double bottom that I can stuff a full second down(or synthetic sleeping bag inside with a pad on top of that to cut the wind.The inner layer carries most of the weight so it shouldn't compress too bad.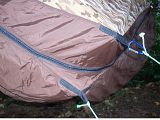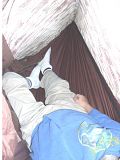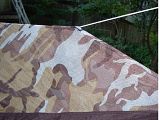 Ridgeline is about 8" higher than the sides and goes through a couple pieces of strapping sewn on the inside for more support.The ridgeline uses a couple small carabiners around the tree and the excess is tied off inside the hammock,once a person is in it, for a tight bugmesh.
The sides are higher in the middle for more of a foot pocket and wind blockage..the liner bag goes almost right up to the zipper line.Heavier YYK full length zippers are used for unzipping one side and throwing the mesh back over the ridge when not needed.Both sides can open up fully but the mesh is not removable,just roll it around the ridgeline.
A pocket strip is overhead out of the way...approximately 6" deep pockets,3 pockets on a 24" strip for whatever doesn't hang from the ridgeline off carabiners.
The secondary upper side tie-outs..the single line is looped around a stake with a carabiner to the top one that can be quickly dettached and hooked to the bottom one if a person wants the bugmesh open,getting in and out(doesn't need to be undone but easier and wider if it is.I wouldn't undo the upper at night,not worth it.)
Hammock is heavy,with two layers of 1.9oz stuff on the bottom side,but probably worth the extra windbreak.A couple of foam windshield covers could be taped together and placed inside,unfolded to cover the 42" wide area there under a person's body..lighter weight than a second bag..or a couple foam pads.Weight is about 3lbs and 3lbs 6oz with my treehugger straps...no tarp.
Asymetrical design..so I can side sleep or lay however I want inside(side,back)..across the hammock at 45 degrees.I might be adding another pocket for slippers over the foot area above the zipper(see the picture with me in it,where the slippers are).
I'll probably redo the whipfinishes to the ends in a brown cord instead of the white..need to do some adjusting of the outsides(pull them in a little)edges.I don't knot my ends,just use the whips.The ends for the tree hanging are short loops of straps for hooking on carabiners so I can use one set of treehuggers for the 4 hammocks I've made..but I have two sets..one for each house.
One more idea I've thinking of is whipping over some short sleeves also on the ends with cordlocks on the outer ends.I can use those as drip stoppers down the tree straps and over the tree strap carabiners..and covering the whipfinished areas with nylon socks..just something I've wanted to try.
Someday I plan on making a matching "tent" tarp for the thing,something with vertical doors on the ends that meet.I'll need to make something up and then try spraying it myself with a silicone concoction for waterproofing.
Cost and materials..Remember my costs are thrift store buys so they don't really represent true prices..adjust accordingly for
your
sources.
Camo bugmesh(walmart)$1.50 a yard..3-1/3yards=$5.00
Main 1.9oz taffeta nylon material(44"wideX8 yards..extra over 10' length for pockets,small sewn in triangles by zippers,shoe pocket,etc..bulk thrift store buy at 25cents a yard!)..so $2.00(figure normally $1 or 2 for a good deal...)
Ridge line and whip finish lines(miniblind sash cord 2mil/thrift store buy) $1
Tie-out lines..cheap cord for $1
Strapping for side tieouts and end tieout loops..figure $2 at thrift stores in the sewing area.
Thread bought as a serger roll for $1 at thrift store
Zippers..I got a super deal!YYK metal zippers..9' foot long..$1 each..$2..thrift store!I figure that ice shouldn't stop them so why not use them!I'm not weight concerned or I would have found some lighter ones..but these shouldn't ever go bad in the field.
Anyway..everything was cheap..just took a few months to find what I needed..more later.