WooHoo! We're back up!
Skids
Insanity: doing the same thing over and over again and expecting different results.
Albert Einstein, (attributed)
---
Oh dam must stop my yard get to my stoves for here
Man play with fire man get burnt
---
Well cant find where duck tape is but the pants are so rotten no thread will work so this been on here for two days.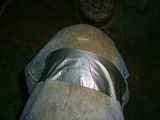 Man play with fire man get burnt
---
Posts: 5279
Joined: Wed Sep 19, 2007 9:08 pm
Location: SW, Ohio
Contact:
Great to be back up and running.
Oops. make those pants into a pair of shorts
Wonder what the problem was this time
"Many of lifes failures are people who did not realize how close they were to success when they gave up".....Thomas Edison
"
Live Life....Love Life....Ask More !
---
I'm glad were back!!!!! I have no idea what happened, must have been a storm near the Host's site. It must have knocked out Sam also. I tried my best to get in touch with him but all failed.
Ahhhh, a sigh of relief for sure.
http://www.woodgaz-stove.com/
---
big big sigh!!
i had to go read stuff with dancing bananas in it!
did anyone else know that Zelphie's been playing around with GAS burners??
Daren.......
"I'd rather be happy than right." Slartibartfast
---
Yeah..I could not ping the website Friday.

I figured it was a network glitch of some sort..

Ah..technology!
---
It looks like the website is hosted by Softlayer.com... maybe? I didn't find any reports of their service being down on Friday but it has been down in the past. They have three data centers according to their website. I'm not sure if they were all affected or just one (if it was even them).
Well, at least the site is back up now.
"Hiking is just walking where it's O.K. to pee." -Demetri Martin
---