Picked up a tent i thought was in bad shape,just for the nice aluminum poles..kind of smelled like old PU coatings and maybe put away wet...however...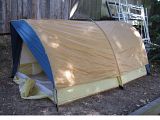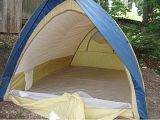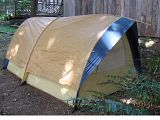 REI CO-OP
Ascent..Nice tent!Interesting three hoop design with a top pole that stretches the ridge and holds everything in place(easily moved flat by unhooking the top pole).The top pole has a pole pocket at one end,sleeved, and a pin on a cord with a cordlock that goes into the other end.The three hoops have a fixed arch like the center one and go in sleeves and pockets.inside dimensions are 4-6" at the ends and 5' wide at the center hoop X 8' long.The ceiling is 3-6" throughout..The fly is built in(I thought at first it was minus a fly when I saw it jumbled in the bag)
The floor had the smell..but the smell is leaving nicely...
It came complete with instructions and four stakes(plus a couple lagbolts)..4 stakes are enough but six makes it solid..no need to tie out the beaks.
It's interesting that it is labelled as "REI CO-OP"..must give it a definite date I'll have to look into..